Child's Play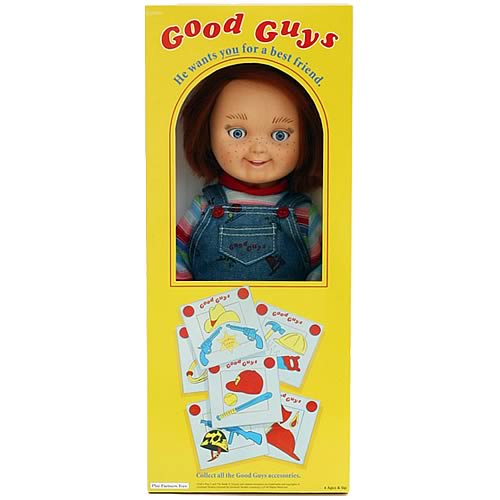 April 26, 2007 4:45pm CST
I love the child's play series! I have watched the movie ever since a small child and i've been hooked on the series ever since. Chucky the killer doll shows us that he can be both creepy and funny. The first movie has always been my favourite, mainly because it was the most scariest of them all. If you love the movie/series/chucky, leave your comments here! Check out the photo of the Good Guy doll/figure which you can now buy!
2 responses

• United States
21 Apr 12
I love the movies now, but I was very frightened of Chucky when I was a child! The guy that voices as Chucky is in the Halloween remake as Annie's father, and his voice is so distinctive; I mean, I can't imagine anyone else voicing Chucky! I heard the director wanted to work on remaking Child's Play because he wanted to make it scary again...

• United States
30 Jan 10
I am a chucky fan too. I love him and Freddy Kruger.I have seen all of the chucky movies and they are great. As a child, I used to be really afraid of f chucky.My name is the same as chuckies bride so I always get teased about that. Now a days chucky seems like he could be my friend that kills people. Chucky will always live on as one of the greatest horror movie chatacters.