Grilling Recipes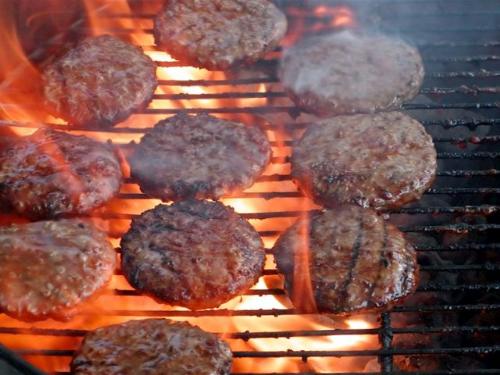 United States
8 responses

• Canada
27 Apr 07
i love a classic steak cooked to perfection. When i'm grilling steaks i like to cook each side ore two mnutes twice and i put a little bit of balsamic vinegar on the streak while it grills.. freshens the tatse up a little bit. One day i'll grill pizza on the bbq i've always wanted to do that since i was little.

• United States
27 Apr 07
We wear the steak out all the time. I've never heard about pizza on the grill.

• United States
27 Apr 07
LOL Ok but I don't think I will beat you to it.


• United States
26 Apr 07
Fajitas are a great change of pace from the ordinary burgers/dogs. You can use skirt steak or chicken thighs -- just marinate for up to a day before hand. I use vegetable oil, lime juice, lime zest, cumin, and coriander to make my marinade. Grill over evenly ashed coals for about 3-5 minutes per side (if you got boneless chicken thighs). Serve with rice, beans, and tortillas. I love guacamole and sour cream with mine as well. A handy tip for making "mexican" rice -- near the regular bullion there is always a product (especially here in texas) called "caldo con tomate" which is chicken with tomato. It turns the rice that orange-y color that you see at tex-mex restaurants. An easy side with this is just to slice up some peppers and onions and toss them in a grill basket or cook on the stove. Both are pretty cheap and quick!

• United States
26 Apr 07
I love fajitas. I didn't even think about them. Thanks for the idea.

• United States
27 Apr 07
I forgot to say -- let the meat rest. I usually cover the meat and then warm the tortillas before slicing the meat thin.


• United States
27 Apr 07
I love Corn on the Cob grilled its so good.

• Philippines
27 Apr 07
I have here one of my favorite recipe: Salami and cheese INGREDIENTS: 12 paper thin slices salami 1/2 cup olive 8 slices olive bread 8 ounces italian fontina cheese, coarsely grated Pre heat a large non stick skillet over medium heat for 2 minutes. Add the salami and cook until it begins to brown, 2 to 3 minutes. Turn and cook for about 3 minutes or until the slices have begun to shrink and turn golden brown. Remove the salami from the skillet and set aside. Wipe the skillet with the paper towel but do not wash it. To Assemble: Brush one side of each slice bread with the oil. Place 4 slices on your work surface, oiled side down. Distribute the cheese evenly over the 4 slices, followed by the salami. Place the remaining 4 slices of bread on top. Oiled side up.

• United States
26 Apr 07
I think I'm gonna grill some chicken this weekend. Its been a while since I had boneless skinless bbq chicken. :) You can also do shrimp skewers, chicken skewers, or steak skewers. I love skewers they are awesome.

• Malaysia
27 Apr 07
I love grilling to and in my country we do grilling almost anytime in the year as we don't have a summer. Most of the time we make it during the evening. I have the recipe for the marinade. You can try this one for yours. Marinade: *½-cup honey * ½-cup fish sauce * 3 tablespoons liquid seasoning (Maggie brand) * 4 tablespoons calamansi juice * 1 tablespoon salt * 1 tablespoon ground black pepper * 1 inch ginger (smashed) * 2 cloves garlic (smashed) * 2 Shallots (Smashed) * 1 teaspoon turmeric powder Preparation. Mix all the ingredients and marinate your chicken/mutton/beef for a few hours or the better is over night before the grilling time.

• Philippines
27 Apr 07
i love grilling pork belly and pork chops. but first, i have to marinate them in a sauce that is a mixture of soy, vinegar, lemon juice, a little garlic and oyster sauce. i let the meat soak for a while before i put them over the heated charcoal and every now and then, or whenever i turn them, i "wash" the meat again with the marinade to keep the meat moist. what do you think of that?

• Philippines
27 Apr 07
Grilled Steak with Grilled Tomato Relish SUBMITTED BY: The South Beach Diet Online "Fresh grilled tomatoes are the perfect accompaniment to this hearty steak dish." INGREDIENTS 2 (6 ounce) sirloin steaks 2 medium pear-shaped tomatoes, halved lengthwise 2 tablespoons extra virgin olive oil, divided 1 medium onion, chopped 1 clove garlic, minced or pressed 1/4 cup chopped fresh basil Pinch salt Pinch freshly ground black pepper Basil sprigs (optional) DIRECTIONS Place the steaks on a lightly greased grill 4 to 6 inches above a solid bed of medium-hot coals. Cook, turning as needed, until evenly browned on the outside and a thermometer inserted in the center registers 145 degrees F (for medium-rare). Cut to test for doneness (about 15 minutes). Meanwhile, place the tomatoes on the grill, cut sides up, and brush them lightly with 1 tablespoon of the oil. When the tomatoes are browned on the bottom (about 3 minutes), turn them over and continue cooking until soft when pressed (about 3 more minutes). While the tomatoes are grilling, combine the remaining 1 tablespoon of oil, the onion, and garlic in a medium frying pan with a heatproof handle. Set the pan over the coals (or set on the stove over medium-high heat). Cook, stirring often, until the onion is limp and golden (about 10 minutes). Stir in the basil. When the tomatoes are soft, stir them into the onion mixture, then set the pan aside on a cooler area of the grill (or cover and keep warm on the stove). When the steak is done, place it on a board with a well (or on a platter). Spoon the tomato relish alongside the steak. Season with salt and pepper, and garnish with basil sprigs, if using. To serve, cut the meat into thin slices. Combine the accumulated meat juices with the tomato relish, if desired. Grilled Halibut with Cilantro Garlic Butter SUBMITTED BY: serenadelorenzo "Delicious! My husband absolutely loves this recipe! Fish is simply seasoned with lime juice then served with a cilantro lime garlic sauce. Serve over a bed of greens with a nice loaf of bread for a complete meal." INGREDIENTS 4 (6 ounce) fillets halibut 1 lime, cut into wedges salt and pepper to taste 3 cloves garlic, coarsely chopped 1/2 cup chopped fresh cilantro 1 tablespoon fresh lime juice 2 tablespoons butter 1 tablespoon olive oil DIRECTIONS Preheat a grill for high heat. Squeeze the juice from the lime wedges over fish fillets, then season them with salt and pepper. Grill fish fillets for about 5 minutes on each side, until browned and fish can be flaked with a fork. Remove to a warm serving plate. Heat the oil in a skillet over medium heat. Add the garlic; cook and stir just until fragrant, about 2 minutes. Stir in the butter, remaining lime juice and cilantro. Serve fish with the cilantro butter sauce