The Motorola Q! Who has it and who likes it?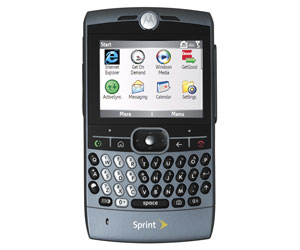 United States
April 26, 2007 6:43pm CST
I got my moto q a monh ago, but i cannt irgure out how to send picture messages. i tried selecting add image but it doesnt let me. I have sprint and i signed uop for the internet package so i should be able to send and recieve picture and video messages(which i have recieved but not sent!) Someone with experience please tell me whats wrong with my phone!!!!
4 responses

• United States
21 Apr 08
There is nothing wrong with your phone specifically, but who you have services with. I have the Q too. I like the phone. But what I hate is that sprint doesn't give you the capability to send picture text messaging and it sucks. The only way that I can get picture messages is if someone sends me a picture mail. And if you have picture mail, then maybe, just maybe you can send the picture but through email. And I have tried that, and it doesn't work. I have given up and just happily receive picture mail from friends and send a regular text message. Don't bother calling sprint customer care, you might get someone in India who will transfer you to 10 or 15 different people. Anyway, great phone, lack of awesome service from Sprint.

• United States
14 Apr 08
I have a Moto Q9M, and I can send picture & text messages on it, I really don't know what your problem would be, however, my phone service is Verizon. Anyways, I really can't stand that phone. It freezes up all the time, and I have to put a master reset on it about every other day. I went in yesterday, told them my problem, and they gave me a completely new one, so hopefully I won't be having any problems anymore!

• United States
22 May 07
i have sprint the reason why i like it is clear you can talk in to you get sick of it and the walkie talkie that is on it that is why i like it

• United States
30 Apr 07
Well I am getting my Q, also with sprint. The Q can't do picture mail via mms you must use email to do so. yeah its weird.