do you WANT TO BE A STUDENT AGAIN?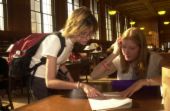 Philippines
April 27, 2007 8:13am CST
Do you have plans of going to school and pursuing another degree? Why and why not?
5 responses

• China
27 Apr 07
I would like to be a college student again. Because I can enjoy mylife at campus. I can also learn whatever i want to and do whatever i want to and even be love with a boy without disturbing . As a working adult, we will have more responsibilities .....to the society and family .... It's a competitive society ....

• India
30 May 07
Well,definitely I would like to be student. I have double degree with me and I have a keen desire to study. I would like to continue studying as long as possible. Student life is one of the most memorable chapters in our lives. The impressions of student life would last long forever. I love to be student for my lifetime. Sadanand.

• Malaysia
1 May 07
i'm too lazy...but it would be nice to be able to pursue masters..but i'm just too lazy to go through the process of being a student..sigh...

• Philippines
27 Apr 07
i haven't finished the course i first took, and even if i'm already earning i would still like to finish the course and take up another one i really love after that. i really like the course i first took and i sure want to see it through..

• India
27 Apr 07
student? i am a student! and i am hoping to graduate one day to take on this world!!! i know the fact well that some days later in my life i am gonna miss these days and hope i never passed out of this virtual world( virtual becos every body knows u here! ) but i guess , its wot life is all about...to move ahead, to conquer to points and yeah keep memories of your past! i will certainly look back and smile for the days i am spending/enjoying now!!!