say good bye or just leave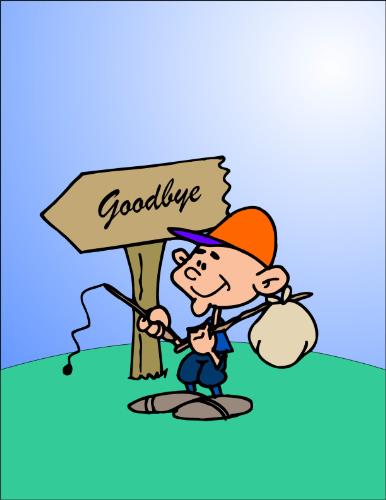 Philippines
April 27, 2007 9:20am CST
which is better, saying good bye or just leaving? would you rather leave than say good bye? do you want the people around you vanish or just leave without saying good bye? for me, i'd rather leave than have those teary moments of saying good bye.. when they start looking for me, i'd be miles away.. i'd also prefer the people around me to just go, specially if i won't be able to pursuade them to stay.. how about you, would you say good bye or just leave? would you like the people to just go or let you know they're going?
10 responses

• Philippines
27 Apr 07
I wanna be there when I say goodbye, I wanna hold my loveones and close and tell them goodbye and promise them I'll be back... I mean, since we'll be far away from each other, I'd rather not waste a single moment, I wanna be with them all the time, especially at the time that I'm leaving, I want their memories to stay with me forever...

• Philippines
27 Apr 07
i feel the same as you do, maplekisses. i want to hold the ones i love before leaving. the kisses and hugs will see me through. these are happy memories that i will love to recall when time comes that there are moments which i will have to myself alone.



• Philippines
30 Apr 07
imaybe just leave.. its really hard to find words to say good bye

• Philippines
30 Apr 07
Hello there! I'd rather say goodbye so that if there are issues that needs to be settled, we can settle it first. If there are things they want to tell me, they can tell me before I go away. And most importantly, I would like to hold them really tight and tell them how much I care for them so that whatever happens, I won't regret that I didn't even let them know how important they are to me.

• United States
29 Apr 07
I would prefer to say good bye rather than just leaving. That way if there is anything that needs to be resolved before I leave, we can go ahead and make sure it's done. I would also prefer that people say good bye to me, so that I'm not left wondering what happened to them. Personally, I think it's a little impolite to just leave without saying anything.

• Canada
28 Apr 07
I either say later or just tell them I'm going.... but just disapearing is a little rude

• Philippines
28 Apr 07
I really hate saying goodbyes..Just what is written in a song "the problem with hello is saying goodbye". Saying goodbye specially to the people you love really hurts the most when you think of the time that you be spending away with them. So what i normally do is i just say "see you later" so i wont be missing them that much.

• Philippines
28 Apr 07
i believe that leaving the people i love will be painful. i can't leave them without saying goodbye. i know that it is difficult but i think it can also be rewarding. you get to acknowledge the endings in your life, thus, you can make the most out of it.

• Philippines
27 Apr 07
i prefer to say my goodbyes. at least the ones who are close to me will know where i am heading for. some close friends will feel offended if they are not told that i will be leaving and as to where will i be transferring to and why. goodbyes may hurt but these are good memories and not bad ones.