How often do u polish ur shoes?Do u polish them only when u going for some party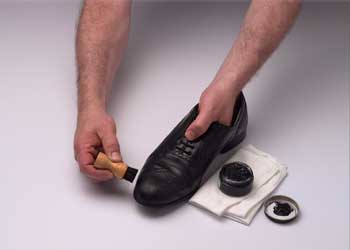 India
April 28, 2007 2:00am CST
It is a very common saying that "one can easily judge a person from his shoes"Hey friends how often do you polish your shoes? Do you polish your daily early morning when you going some where out or do you polish them twice or thrice in a week or may be even late than this . Or you like to polish them only when you are going out for some party? You must be thinking why i am asking this noobish question.But to be frank 2 days bac i had my farewell party .Within few days i shall be over with my 4 long years of my graduate degree and we had a farewell .I got myself new suit,new tie and dressed up nice .But ..... yes u guessed it i forgot to polish my shoes and i realized that when i was at my friends place andluckily i did it there SO how many times do u polish ur shoes?
4 responses

• United States
28 Apr 07
Well, this is one thing I've never done. However, in the beginning I use to polish my hubby's boots. I no longer do it. As for my shoes they are tennis shoes or flip flops.

• India
28 Apr 07
this is just another option to save ourself from polishing our shoes to have shoes of kind like sports shoes or as u wrote tennis shoes.But this is not possible as i have to go to my office and it looks not gud to wear such shoes there.U want to wear formal ones

• Singapore
28 Apr 07
I polish my shoes when I have an important appointment where I need to be well groomed. Otherwise, I am not that fussy. If it is dirty, of course I will clean it. But polishing is one extra step.

• India
28 Apr 07
ya most of us follow this approach b.We dont bother much.And you are right that polishing is an exstra step .but i remember my grandfather used to polish his shoes daily.

• United States
22 Jul 07
At least once a month, I like to keep them looking good for work and when I go out.