which color cathes ur eyes the most.........

India
7 responses

• Philippines
23 May 07
The color that I loves most is the colors of the sea. The blue -bluegreen hues.

• Philippines
18 May 07
I like green and all its shades or hues. It's simply soothing and has a calming effect. I have fair skin so green compliments my color. I glow in this color, that's why its my favorite.

• Singapore
17 May 07
i always look best in black. maybe coz it tends to hide my flaws :P and makes my dressing appear smarter most of the time. as for other things, i will naturally pick black as my 1st preference. No idea why as it just happens.


• Indonesia
29 Apr 07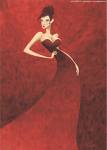 im sure its red. every time i notice red every where quick way. a lady wearing red dress will catch eyes of any mans. lol

• India
29 Apr 07
Blue siuts me in clothes. Since i like blue from my childhood.

•
29 Apr 07
I have to go with white. I don't know what it's about white but I'm somehow fascinated by it. Pulling off white clothes takes something extra special so my goal is to be able to pull off a white suite. There have been heaps of movies with cool guys wearing white so I think I wont elaborate further on this.