In response to my post of I am sick and tired of you putting down my president.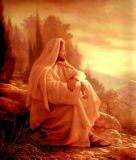 United States
April 29, 2007 8:49am CST
In Romans 13:1-2 it says,"Every person is to be in subjection to the governing authorities. For there is no authority except from God, and those which exist are established by God. Therefore whoever resists authority has opposed the ordinance of God; and they who have opposed will recieve condemnation upon themselves."Those of us who have been justified by faith are obligated to be subject to human government. God has instituted human government, and no government exists apart from HIs will. This doesn't mean that He approves of all that human rulers do. We should support our leaders including the president even if we don't approve of what actions he is taking. In the past I have not approved of certain presidents and what they have done; HOWEVER they are still the president. I didn't approve of Clinton BUT that doesn't mean that I don't respect the office that he held. However, there is one exception to this for me as a Christian and that is I am not required to obey if the government orders me to sin or to compromise my loyalty to Jesus Christ (Acts 5:29).
No responses