what is the best time to exercise?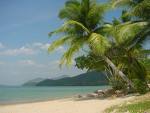 United States
April 29, 2007 10:10am CST
what is the best time to do exercises: morning, afternoon, night?? I am interested in what you know about this topic. It is true to you burn more calories in he morning or in the afternoon?
2 responses

• United States
29 Apr 07
The morning is supposed to be the best time. It tells your body to set your metabolism high all day, so then you burn more calories even when you are done working out. Plus, you have a full day ahead of you to experience that seratonin release that comes with exercise. Plus, many people use the excuse that they are too tired to exercise if they do it later in the day.