My granddaughter spent the night last night......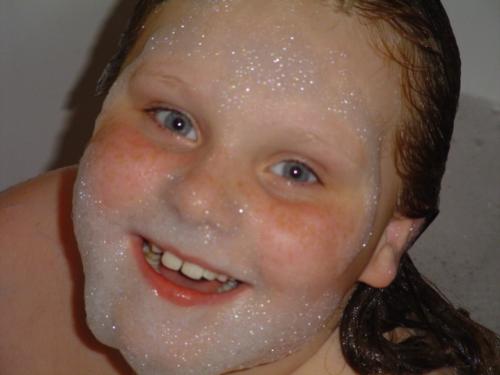 United States
April 29, 2007 12:53pm CST
She is 7 years old. Closer to 12, or so she thinks. As Mothers day is just around the corner we decided to craft. We made a picture frame for her mom using foam, foam cut outs, scrapbboking supplies, a glue stick and this years school picture. It really turned out good. She did really well with the placement of the designs and the coordinating of the colors. It was so much fun we decided to do the same for fathers day on another visit. She is really getting big. She has a barbie laptop and a Leap Pad she has gotten over past christmases. She brought both with her as the Leap Pad was not working so she decided grandpa could fix it and would not let daddy even try. Well grandpa fixed it, just needed new batteries. LOL! I was so shocked as to how well she is doing with the numbers games. She is really starting to enjoy learning. I am so glad we invested in these learning tools for her. She may be getting older but she still enjoys a good bubble bath with toys. I still check in on her and she is starting to be more modest, which is good. She was making santa beards on her face and I grabbed my digital. Scared her to death. No bad pictures grandma, be careful. Well it worked out great and I've got two closeups of a bright and shiny face covered with bubbles. (She was so relieved when I got that camera out of there. I was pleased to know she knows good and bad when it comes to nudity and pictures.) Well, of course, just like any kid she decided to make all kind of cute and strange faces through the shower door after the camera was gone. She sleeps on the floor in our living room when she stays over. We used to actually put up a tent but she seemed to outgrow that. Now she is into sleeping in a sleeping back on top of an eggshell cushion, you know the ones sometimes on hospital beds. We bought them at Wal-mart for camping. They are a little more comnfy than bare ground or floor. We used the computer to print out her pics, one was out of focus so we distorted it worse and made ART out of it. That is for her daddy. Well, I better get off of here and go spend some more quality time with my special gal. So what do you all do when grandkids are over?
3 responses

• United States
29 Apr 07
Soungs like you enjoyed yourself as much as she did. She is a cutie and has such pretty eyes.



• United States
30 Apr 07
Now you have some idea what you'll be doing in your old age. To be honest I am really not old enough either. I started out early, My oldest was born wjen I was 15 and my grand daughter was born when I was 29. The big joke then was, "You couldn't wait till I was 30?". LOL I'm a really young looking grandma. Can't complain!

•
29 Apr 07
My granddaughters used to stay over all the time but the oldest is almost 18 now so she takes care of the youngest when Mum and Dad go out the youngest is 13 next moth. I have so many videos of when they were here . we used to bake and make patterns and write names with icing pens , I taught them to knit too and they used to go through all the drawers in my bedroom to dress up and put make up on , I used to do their hair and we even have my hubby with hair rollers and a hair net on lol ( don't tell him I said lol ) I still bring out the videos from time to time actually I am transferring them to DVD this week have fun pal they grow up too quick xx

• United States
30 Apr 07
That's for sure. My granddaughter has almost waist length blonde hair. We put it in braids on the sides of her head, easier for sleeping. This morning she told me to tell her mommy to braid her hair on the sides cuz' it hurts to sleep with it braided in the back. i also did a loose braid. She said moommies braids are so tight it makes her eyes sqint like this. Well you know the face she made pulling her sides of her face back with her hands. LOL! Was so nice to know I was doing good in her eyes. We took the braids out this morning and she had all this long wavy hair but it was hot today so I gave her Amber ears. Amber is her puppy, a cocker spaniel. I braided about not quite 1/3 of the way down from each side of her hair and the rest was left loose and wavy so she had cocker spaniel ears or "Amber ears" as she said. And loose braids of course so not too pull. I love being a "hero" for a day.