How much do yo love your pets?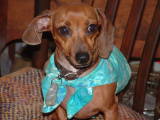 Philippines
May 1, 2007 8:31am CST
I have a pet dog name Whoopie, she loves to play ball, and she loves to eat ripe or green manggo. Every day my daughter brush her hair,put some ribbon on it and dress like a baby girl. We talk to her and she's very genious she knows what were talking about coz she follow us. She loves to sleep on our bed and watch t.v. Sometimes I thought this dog is very lucky that were the one who took care of her we treat her like humans and loved her so much. How about you guys any stories about your dogs did you treat them like humans?
1 response

• United States
1 May 07
Before our baby was born, our dogs lived inside and were very well taken care of. Now that our baby is here, we have moved the dogs outside. It's not that we love them any less, but our baby is much more important then they are. We still love them and care for them very much, and we give them all that we can. But our dogs were our babies for a good 7years of our relationship.