do you have a LONG LOST FRIEND?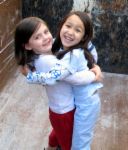 Philippines
4 responses



• United States
2 May 07
Yes I do. We went to high school together and I happened to find her on myspace. I found out that she moved to another state and we wont be ble to hang out any more so I convinced her to sign up for a free internet chat called IMVU so we can chat with eachother and keep in touch. Now we talk at least once or twice a week to keep in touch.

•
2 May 07
yes, i used to have one best fren during my childhood, i mean when i was in grade 4. I still remember her face and her name and everything but the thing is that she got transffered when i was in grade 5 and we lost touch. Then from that day i haven't seen her neither heard from her but i remember her everytime.