Low waist pants for girls is it Moral or Immoral?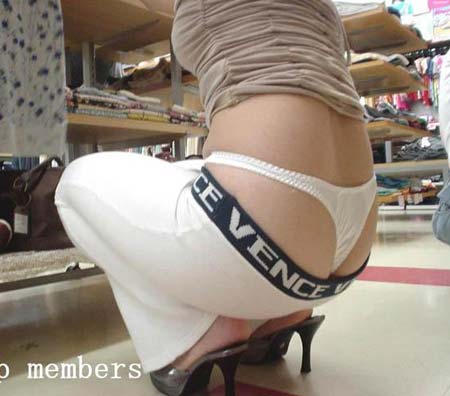 Philippines
May 2, 2007 8:38am CST
Where ever you go out today in a shopping malls, I am sur you observed lots of girls today used a low waist pants that.... its almost an inch you can already see what is inside the little cover...Even in the church some of them even received communion, I am just been a little bit annoyed about what ive seen... is it moral or immoral?
9 responses

• Philippines
2 May 07
Why do girls nowadays wear low waist jeans/pants? It is because they want to attract people, especially the opposite s*x. Though it is sexy and hot, you still should wear appropriately during certain occasions and places, like the church for example. It is summer time, and i do understand girls wanna show off a little more skin as usual. They wanna show off their assets and show to the guys what they got to offer. And if they have the body to back it up, then why not? After all, girls nowadays are quite liberated already. Moral or Immoral, we can't dictate fashion nowadays. For some its morally ok, for other though it is not. There will always be contradictions.

• Philippines
16 May 07
maybe, you are right for I do also observe that some were even flirting when using such pants

• Netherlands
17 May 07
I for one do not mind at all, if theres a freedom of speech,why not a freedom for fashion? and if fashion doesnt get its freedom, the lowriders pants make enough of a statement already.

• India
12 May 07
I think it is moral. there is nothing which can be termed as immoral in it. what ever any girl is wearing is her own desire. we should not be monopolist. If any guy ties to get naked there is no problem at all but when a gril tries she is stopped. is it a true justice? If you believe in God then remember God has made everything including girl. everybody is free and if not one must be free. what anybody does is just fulfills desire so nothing wrong in it. Look dear, she has not invited you to see her pants, panty, or bra; but you must have longed to see it. what you wanna were, anygirl tries to stop you; than how do you feel


• Philippines
16 May 07
well maybe this really depends on your country of origin

• United States
2 May 07
I dont think that a person wearing low rise jeans is a morality issue. It really is just freedom of speach without actually having to open your mouth to say anything. I dont see it as any different as people wearing headbands, and bell bottoms in the 70s. It is just the style, and it too will soon pass, and those people will look back and say to themselves "what the heck was I thinking."

• Germany
2 May 07
It is nothing about moral or immoral, it is only a fishion, although I donot really like it, at least I do not like look my friends dress like this. But, tell the truth, from a view of a man, a sexy belly or waist, or even lower with some special design, you feel just fine about that, right? It really attract eyeballs of others, not only men but also women. So, don't feel confusing about this problem, they enjoy to show off, you enjoy the view. It just like the perfume, like the makeup.

• Qatar
2 May 07
It would depend on the place ..it would be so unpleaseant to the eye and would be immoral on the house of worships.Though the wave of fashion revolution was hard to stop,those who wear those garments should be responsible enough to the place they would dress those pants.


• India
11 May 07
I don't like at all low wrist pants, IT looks totally ugly.