Does anyone else want to smack "BOB" and his male enhancement medicine?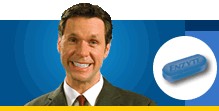 United States
May 2, 2007 7:08pm CST
I swear if I see that stupid ad one more time with the dorky smile that "Bob" has for evidently thinking his member is so much larger now that he took the Enzyte I will scream! LOL Anyone else get aggrevated with this ad and the other ads for Viagra and the copy cat meds?
5 responses

• United States
3 May 07
Bob has a "new lease" on life. I think I want to smack the heck out of his grinnin' wife too. He can just keep his tools in the shed with all the others, lol. Yes, I hate all these type of commercials, they have no place on television. LOL If "it's" larger now, he must have had a toothpick before.

• United States
3 May 07

• United States
3 May 07
I just want to cancel his "lease". LOL When I see one of those come on TV, I hit the mute button ASAP. Explaining the birds & bees to my daughter is tough enough without having to explain those commercials too.

• United States
3 May 07
I'm sorry, I think they are hilarious. I love the different inuendos, like the neighbor whose garden hose goes limp. Or the guy holding the little sausage on a toothpick while bob smiles. It must be my beevis and butthead sense of humor. LOL

• United States
19 May 07
LOL... it's not that their not "funny"... but they're so stupid that's what makes them funny. I just want to choke bob! LOL

• United States
3 May 07
Yeah he drives me crazy too ... I just wish he wasn't so perky and they played that stupid background music with it makes me think I am in the 1950's again.

• United States
4 May 07
You know what? When I first saw the commercials I thought, "Oh, geez, how stupid is this?" Then after awhile I began to look at it differently. I thought about how he must have felt to hold his face in that position; they probably did many re-takes before the final cut. At that time and now when I see it I just think it's hilarious!

• United States
19 May 07
How would you like to be "Bob" and have to get divorced, enter the dating game and voila... everyone knows you! LOL

• United States
20 May 07
Bauahahahah! I LVOE bob from the Enzyte commercials! As other have said these commercials are over-the-top! I can't tell you how hard I was laughing when Bo comes home from work, and his wife is at the door with that absolutely stupified smile?! Hysterical! It's better than some of the "Land Shark" commercials that the old "Saturday Night Live" company were producing. Yes, I'm missing Bob! Where'd he go?