What kind of ability do you think Angela Petrelli (Peter n Nathan's mother) has?

Brazil
5 responses

• Philippines
4 May 07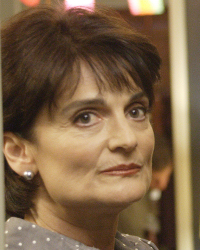 I think she has the power of precognition where she can see the future, remember when she said that she knows Nathan & Peter have special sbilities even before they realized they did.

• Philippines
5 May 07
If you think about it, you are correct about the dreams. Peter can dream about the past and future.


• India
5 May 07
Just wait & watch for future season of heroes to unreveal it!!! HAHA Actually i know wht power she hve but if i tell u here , u will not enjoy the show then

• Australia
4 May 07
i believe that she has the ability to go super-speed - i mean - look at how fast nathan can fly! i was really surprised the first time i saw him do that.

• India
5 May 07
Dude i thk watch future episodes for the answer, rite!!!


• Israel
4 May 07
Wow, I totally forgot about it. Well, if you think about it, the children of the people with powers don't have the same powers or even a relative power to their parents. So I'm guessing it's anybody's guess by the way, if you look closely you'll understand that a long time ago some heroes gathered and did form a group, The justice league anyone?