Did you have big wedding? Fancy? Or did you elope, like me?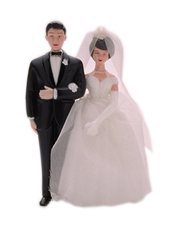 United States
May 3, 2007 4:39pm CST
It was 1968. We were so young and so in love, but his parents hated me. So we eloped. From New Jersey, we drove down to North Carolina and found a justice of the peace to perform the ceremoney. I wore a pink and purple paisley dress that my mother made (and as much as I love alliteration, I HATED that dress, lol.) From there, we drove to Kentucky and set up in an apartment. The marriage lasted six years. So what about you? Was it fun? Did anything odd or funny or disastrous happen at your wedding?
1 response

• United States
3 May 07
My husband and I got married by the court, we could not afford to have a huge fancy wedding, and it was fun because some family was there, and it was quick. Hopefully one day we can renew our vows and have something a little more fancy with family. You know, there were members of my family who were upset because I they say I didn't invite them. But I did and most had to work or had plans.