tattoo vs. peircing!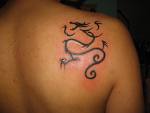 Philippines
May 4, 2007 4:40am CST
Tattoo and body peircing fascinated me but not on my skin and body...I just dont feel like having it. Which fascinates you, tattoo or peircing(body peircing)? Which would you prefer to have or which one do you have? Why you choosed it? If you dont have either of them...would you like to try it...which would you choose and why? where would you want it places?
6 responses

• United States
4 May 07
I've been tattoed and pierced, I prefer tattoos. I took all my piercings out because I'm afraid of my son ripping them out of my ears, my belly button one just looked funny on a pregnant belly, and I took my tongue ring out because I was sick of the comments I got from that. My husband is a tattoo addict, he'd be a freakish circus sideshow if he could. I have one but I'm plotting and planning on more. I think my next one will be on my shoulders, skin doesn't sag there when I get older!

• New Zealand
4 May 07
Hi Nurhoney, To be honest, none of them fasinate me at all, I have tattoos and I have experience body piercing as well, I use to have 5 small rings around my tummy button to enhance my tattoo around my tummy button, was crazy and free then... Im a mother now LOL...

• United States
4 May 07
I wouldnt say either of them "facinate" me by any means but I definately appreciate art in all forms including body art....I love piercings and have had a couple myself (and will be getting more in the summer) but I think tats are more beautiful simply because they tell a story more often than not....you can really learn a lot about a person who inked IMO...

•
4 May 07
I have four tattoos, all of them my own art work, and I love them all. My tattoos are all on my upper arms and I plan to have another two done once I have finished the art work. They are all professionally done and look great.

• Australia
4 May 07
I have both - earrings, a nose stud & i did have a belly ring but i took it out when i was pregnant because my belly got too big & it needed to come out. My tattoos are on my shoulder blades, 1 is of a purple dragon blowing flames & on the other side is a baby grim reaper. So i guess both fascinated me :) I plan on getting another tattoo but i just haven't decided where i want to put it yet. It will be of a Lily & a Rose with my daughter's name around it with her date of birth.

• Singapore
4 May 07
They both can be great... as long as they are not on me =x My partner has them both, I really like them but I don't prefer to have them on myself.