Fox are in my back yard!

United States
May 4, 2007 9:32am CST
For the past few weeks we have seen a fox in our back yard around 5:15 every night. Today we saw the fox out this morning around 8:30am. We also saw that there were some baby fox. I was worried because our dog was out and we couldn't find her. The dog finally came home and now is tied out. My concern is that the fox are about 200 feet from my kids swingset. We live right outside of town~ semi country. Does anyone know if fox will go after kids? I am thinking that I might call the animal control and see what I should do.
5 responses

• United States
4 May 07
Hello sunshine.... The foxes are not dangerous animals. They are more afraid of you than you are of them, they will run away rather than fight. As you can see from my avatar, I am a fox lover, we have a mamma and young also in our yard. They are wonderful animals and will help keep rodent population down. The eat mainly mice, rats, and rabbits. Tom

• United States
4 May 07
Tom, sounds like you know what you are talking about when it comes to foxes. Let me ask you....will it eat my jack russell dog. She is about 10 pounds? I will attach a picture. I am worried that she will get loose and the fox will get her!

• United States
4 May 07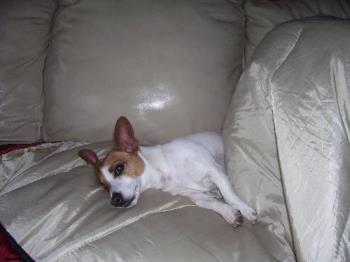 Sorry, i forgot to attach the pict....here it is.

• United States
4 May 07
Hello sunshine.... I would not be worried.. We've had foxes in our yard for more than ten years. They have never caused any problems. We have a cat about the same size as your JackRussel, they give each other plenty of room. Honestly, foxes are wonderful creatures that have the same right to life as we do. I find them an absolute joy to watch. We have a new litter that I just discovered this week. With any luck, I plan to try for as many pictures as I can get. Tom



• United States
4 May 07
That was my exact thought. If the mom feels the babies are being threatened she might attack. Thanks for commenting.


• United States
4 May 07
Do you think that the fox are dangerous? Many others say that they will do no harm. I will call animal control to see what they say.

• Netherlands
4 May 07
Foxes in general are quite afraid for us, although they are sort of moving into our areas but kinda like raccoons and such do. They will still try to run if you approach them. Dogs in general are stronger than foxes, it's pretty much fighting a cat with a good bite. Although small dogs might not win it if they would end up fighting. I guess that because of the young the mother fox will probably be a bit more defensive aggressive, so on approach she might try to warn you off, but actually going after your kids by itself I doubt. I don't think it would have any reason to because as far as it comes to food small rodents and small birds are the biggest things they eat, and I have never really seen foxes as maniacal fighters either. You could try calling animal control though to see if they can replace them more into the countryside, but I guess because it was there with young chances are they'd rather let it stay, but that greatly depends on where you live though because in certain countries foxes are protected and in others they are pretty much killed on sight.

• United States
4 May 07
Oh, I don't want them to come and kill the foxes. I was just worried about my kids playing outside. thanks for all the info.

•
4 May 07
Hi hun. We have urban foxes around here and they will come right up to the house given half a chance. It is unlikely, however, that they will attack kids, they are usually a lot more wary of us than we are of them.