Hilaryduff is a good actor or singer..??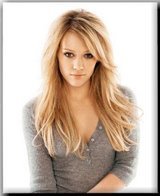 8 responses

• United States
11 Aug 09
I can't choose. Hilary has so much talent going on that you just can't pick what she's best at. She's worked hard to get where she is today and that shows in her work as a singer and actress.

• India
6 Jul 09
hmm .. hillary duff. well .. i would prefer hillary duff as a singer .. she sings well .. :) her acting is good too.. but her singing is better :) .. she started out as a singer and she should continue with it.

• Brazil
11 Dec 07
I think Hilary is a good singer and a good actress. I love her =]

• Italy
17 Jul 07
i would not know to choose , but it is has the beautifulst voice, therefore if it would have to choose, i would want that singer remained one .

• Vietnam
26 Jun 07
I love her voice !!! It's really wonderful !!! But I love her before than now . When she's a teen , she's more lovely and cute than now . I have seen all her movie , all of them are so great~ I love Raise your voice and Perfect man the most

•
11 May 07
I love her new single with love but her music before this song was not that good in my opinion i think she is a much better actress than she is a singer.

• United States
4 May 07
Like you I think she is very good in both forms. But if I had to pick one twould be acting. I first started enjoying her on Lizzie and have watched all her movies and loved them all. So that's my gut feeling on it.

•
4 May 07
I think she is quite good in singing rather than acting. She is yet unable to show some amount of emotions in her acting. Lindsay Lohan..she is good at acting.