Paris Hilton Heads to Jail!!!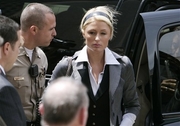 United States
May 4, 2007 7:20pm CST
So per the Yahoo news Miss little Paris is going to JAIL!! I think that she deserves it yes but I also think that other people are getting away with much worse.. but back to the news... Los Angeles- A judge sentenced Paris Hilton to 45 days in jail Friday for violating her probation, putting the brakes on the hotel heiress' famous high life. Hilton, who paralayed her name and relentless partying into worldwide notoriety, must go to jail on June 5 and she will not be allowed any work release, furlough, use of an alternative jail or any electornic monitoring in lieu of jail, Superior Court Judge MIchael T. Sauer ruled after a hearing. The judge ruled that she was in violation of the terms of her probation in an alcohol-related reckless driving. from www.news.yahoo.com/s/ap/2007/0504/ap_en_ce/paris_hilton
1 response

• United States
5 May 07
I think she should have been put in jail long ago for the crime of having absolutely no talent... at anything! Maybe being in jail will teach her a lesson, but it probably won't. It'll just be a minor speed bump, so to speak, in her bizarre "career."