Who do you want to be with in a vacation????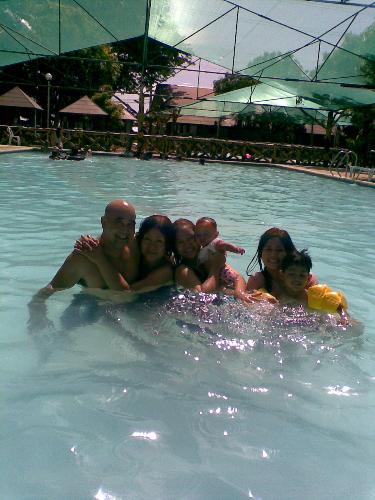 Philippines
May 5, 2007 7:06am CST
Me, i like to be with my family, its like an old times that has to happened again. I like to go swimming with my family, my parents, my sisters, my husband, and my baby. I like them to be with me in a vacation that is full of happiness and enjoyment, no worries and arguments. Just to have fun. Wish that it all happen to us.
4 responses

• United States
8 May 07
I think i would like to have (first) my little family. I want to start our own memories and our own traditions. After our little family vacation, i would love to have a vacation with the whole family. I would love to have my parents, my sister and her family,and my in laws. I imagine us in like a full expense paid resort just laying and relaxing in front of the pool while the kids play.

• Australia
6 May 07
To be honest, i'd just like to have some family time with my partner, daughter & myself. The rest of my family always takes over when we're there & my baby is around so to be able to get away, just the 3 of us would be great. I wont happen for a while though coz my partner is always working - he's at the busy part of work right now! One day though, we'll go out on a family vacation/holiday, just the 3 of us which will be fun. I do enjoy spending time with my parents & siblings but honestly, my Mum needs to just back off a little bit coz she gets so controlling of my daughter whenever she's around & i don't like to be made to feel un-needed.

• Philippines
5 May 07
right now, i really really want to go to a vacation with my boyfriend... i have been inviting him to join my family in our vacation trips abroad but he's just not ready... besides, both our families are conservative saying it's not appropriate for us to travel together since we're not yet married...

• Sweden
5 May 07
I definately wanna go for holidays with my bf. We have been together for over a year and all we had was a weekend trip. It is hard to puzzle outr vacations together but this year we will definately go away. We are choosing between alot of countries... We will probably decide at the last minute =)