Favorite Corrs Instrumental?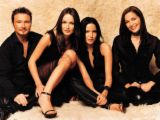 Philippines
8 responses

• Philippines
5 May 07
toss the feathers... i like it soooo much

• United States
5 May 07
Toss the Feathers is mine as well...unless I'm listening to a different one. Then that one is my favorite. They're just so energetic - you can almost feel how much they are enjoying themselves playing music that they love. It would be fantastic to have a job you could have that much fun with!

• Philippines
25 Mar 08
I agree! I love toss the feathers, too!

• Philippines
18 Oct 07
you should hear the "Rebel Hearts". I really loved it cause it more of sibling sharon's fiddling that i could hear from that Corrs' music, i love all of their musics but i am kind of knocked out when it comes to their instrumentals cause there i could hear the violin solo. i hope you'll love it too.

• Philippines
18 Oct 07
Yeah, I'm familiar with Rebel Heart. It's actually my favorite before Silver Strand came out :) I like them both because it's always nice to play along with the music using my tinwhistles.


•
23 Mar 08
Sorry, this might be a bit of a necropost, but hey. My favourite is probably Lough Erin Shore (the unplugged version) - it reminds me of my girlfriend and I find it really calming. I also like Haste to the Wedding - the live version on youtube with Mick Fleetwood has some impressive bodhranning in it :)

• Philippines
1 Nov 07
Mine is Toss the Feathers. The Irish folk rock music. So heartwarming, inspiring for me. This is the music of the corrs that inspires me to continue my violin lesson. Hope I could play that soon.

• Indonesia
23 Oct 07
All is beautiful from the Corrs. I love them all but with vocal, i like only when i sleep most.

• Philippines
4 Jul 07
Joy of Love -- I love that full swing of irish/celtic beat instrumental melody they played in that particular music.

• Philippines
11 Jun 07
Toss the Feathers and Carroroe Jig :P Andrea is just too darn cute whenever she plays on her tin whistle ;)