What's the problem with HUGS?

India
8 responses

• India
11 May 07
Hi maruti800! I am quite a warm person and hugging come quite natural to me. I hug my close friends and family when i feel the urge. I do not care who is looking or what anyone would say.

• Philippines
7 May 07
hugs are a person's way to show affection.. maybe a way to show love and care for the person that is being hugged. there really is nothing wrong with the act of hugging. maybe some people just think of it as a malicious act.. there's this guy named Juan Mann from Australia who started a free hugs campaign, he said that his mission is to brighten up people's lives and to just reach out to them. the idea was great but some people opposed the idea. and for some time, the free hugs campaign was banned... but i think now it's back on track. the guy was even featured on Oprah and he got the chance to hug Oprah. so there, though some people may find it malicious, they should open their eyes to the fact that hugging is a very nice way to brighten up a person's day.

• Philippines
14 May 07
thanks for making my response the best for this discussion. i really appreciate it. =]

• Philippines
7 May 07
i feel awkward sometimes..when the one who is hugging me is not really close to me...but i love getting hugs from my friends...especially when we haven't seen each other for a very long time...

• India
9 May 07
so you will hug with only known persons?

• United States
6 May 07
I'm very affectionate with my children, my partner, most of my extended family & some of my friends. If we're close, then being physically close is OK with me. However; I feel very awkward when someone I am not close to, tries to hug me. If I can, I tactfully block them & give them a handshake instead. I don't want to offend someone who's trying to be friendly, but I don't want to encourage overly friendly people either.

• Philippines
6 May 07
I feel awkward sometimes doing with other persons. but it's ok if it's ok with them. My daughter love to get hugs. When I arrive at home she tell me to hug her. I give a hug to my wife before leaving the house and when arriving. So what's wrong with a hug? It should be done compassionately, not passionately. Ask for permission - hugging requires sender and receiver. Hugging is good medicine. It transfers energy, and gives the person hugged an emotional boost. You need four hugs a day for survival, eight for maintenance, and twelve for growth. A hug makes you feel good. The skin is the largest organ we have and it needs a great deal of care. A hug can cover a lot of skin and gives the message that you care. It is also a form of communication. It can say things you don't have words for. The nicest thing about a hug is that you usually can't give one without getting one.

• Canada
11 May 07
It is great to hug and be hugged i cannot understand why soem peopel do nto enjoy this. It also depends on how another person gives the hug if they give it in friendship or i wanna jump you type of hug that creeps other peopel out.

• China
13 May 07
I feel awkward when I hug with someone I don't familiar with,especially men.I believe some traditional Chinese people(I'm a Chinese girl.)cannot accept greeting to others with hugs.But for trendy people,greeting with hugs is popular among their friends' circles.In my friends' circle,hug is a common way of greeting to each other.I don't feel weird when I hug my friends.

• Malaysia
13 May 07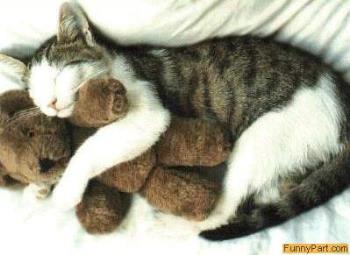 i love getting hugs and giving them:D but of course, you don't just hug people out of nowhere, and it might be a bit awkward to hug strangers haha...anyway, a hug can definitely cheer me up. when i'm down or anything, i don't need a break, i need a hug.