CJ Wins Again In Special Olympics!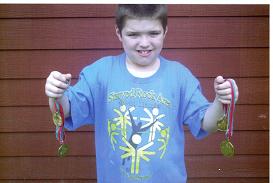 United States
May 5, 2007 10:25pm CST
He has done it again!!! We left for the high school this morning at 8 A.M. Opening ceremonies started at 9, and we found out right before we got there that he was going to carry the torch for our county! He was one of three and the first one to run with it! He didn't even know he was going to do it until a few minutes before he ran. He ran with it like he'd done it all of his life and was so excited. As many of you know, he competed in two events. The 100M and the tennis ball throw. When we first started training he ran the 100 in 48 seconds; we got that cut down to 42, and when he ran it today he did it in 30.11! He won another Gold Medal for his efforts..!Then it was off to throw, and he had to throw 3 tennis balls as far as he could straight in front of him. The first one was dead-on, second was a bit off center but went farther, and the third was dead-on again and even farther than the second. He won another Gold Medal for that!So he left with 2 more Gold Medals to add to the 2 he won in basketball. His Dad and I are so proud of him and he gets to go to State again next month on the 15th!Thank you all my friends for your well wishes and kind thoughts. They helped tremendously.
3 responses

• Etowah, Tennessee
6 May 07
I am so happy for him!! Go CJ. I saw a post by you yesterday talking about it and had to come see how he did. I knew he'd do well though! Tell him how proud we all are of him and that we will be rooting for him next month at State!!

•
8 May 07

CONGRATULATIONS CJ, he must feel so proud of himself and you must be so proud as well. To see him carrying that torch must of been such a memorable moment. It is such a heartwarming event when we see our kids achieve so much. Good on him and I hope he has many more!!

•
8 May 07
He is a real star!! I love the photo of him, he looks so happy!!

• United States
6 May 07
Oh, I am so thrilled for CJ - as I was reading your message I was tearing up just thinking of him running with the flag, as if I was right there I'm so very proud of him as I know you are. I think the Special Olympics are such a blessing to so many people. Will continue in prayers for CJ and the family as he moves on to more events and metals in the future.

• United States
8 May 07
Well I love praying for others and you and your family are always in my prayers - give me a reminder before state so I can devote some extra prayer time just for CJ - he's so special to me and I haven't even met him.