If You Had A Genie In A Bottle...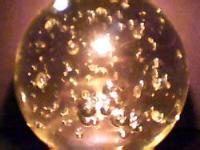 United States
October 21, 2006 9:55pm CST
You are granted 3 wishes..in exchange for these wishes, you must give up 3 very important things in your life. Your wishes cannot have any relation to your 'payments'. The 3 things you give up are permanent and must truly be important to you -You can't cheat The Genie...What would you give up to get?
4 responses

• United States
25 Oct 06
I heard that they can be tricky, so I'm passing on the trade! I'm content enough and not willing to give up the things most important to me anyway.

• United States
18 Dec 06
I would give up my material possessions I would give up my money that I do not need I would give up my past I would wish for me and my husband and the ones we care about to live a long, healthy, and happy life together. I would wish for my husband to be able to become a citizen. I would wish to remain closeby and live closeby my in-laws because their children are my babys.

• United States
26 Oct 06
Oh man! I am going to have to think about this one! But, it would really depend on what you think is important in your life. There is no way I would trade my family or their security for anything because those would be my ultimate goals with the wishes - so, what would I be willing to give up that is important to me? Let's see - for the above, I would give up my computer, all of my books (and it is quite a collection) and I would give up my dreams of becoming a writer.

• Pakistan
18 Dec 06
i wud wish for my family to be happy and healthy for the rest of their life and for that i can give anything even my life. I am alwayz attracted towards money so i wud like to give that up. I wud wish to get as much knowledge as possible. I wud give up my 3rd wish for the author of this topic to answer these questions too:)

• United States
18 Dec 06
Thank you! I too would give up all the material possessions in my life, all the money also that is not needed, and anything else the Genie would deem as a qualification for the health and well-being of my family and friends...for the health, well-being of the entire world...that we ALL could prosper to have peace, security and good health~