What's the big deal with video games?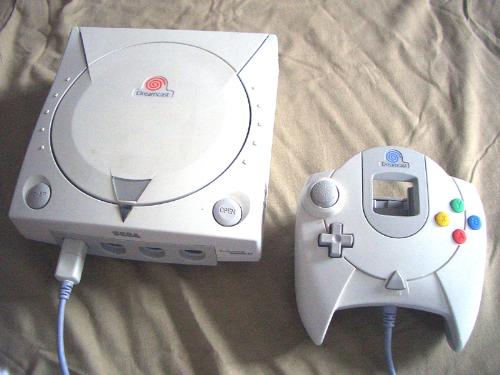 United States
May 7, 2007 1:31am CST
Okay, I'll admit, I love video games! I'm not so into them as I once was years ago, but I still enjoy a good video game every now and then. Why are video games so popular? Do you like playing them? Do you currently own any video games? If so, which ones? The most current system I have is Dreamcast. Yeah, I know I'm behind the times LOL, but as a lot of money went into the game system as well as games for it I can't imagine upgrading to a new system while this one still works well.
8 responses

• Philippines
7 May 07
Before joining mylot, I was pretty hooked on video games. Just some games from Yahoo. I also bought some CD like red alert and Worms 3D. But that was months ago. Instead of playing games, I'm into mylotting or browsing the net.

• United States
7 May 07
Yeah, there are a couple of yahoo games that I like as well. But since finding MyLot I've been less into video games and more into the discussions on here. :P



• United States
27 Jun 08
Uh don't worry, I own dreamcast too (Marvel vs Capcom 2, 4tw!) Anyways, games are great and they are a good way to relax, even immerse in fantasy. Its also an less expensive alternative to some hobbies (flying, MX, terrain based gaming). The games themselves are becoming different, some for the best, others for the worse and then there are debatable ones. Games are even becoming more active, notably the Wii, DDR, Pump it Up. Sacmom, some games have even gotten to a point where they take almost a whole week in real time (100+ hours) or more to fully complete. There are even things called Visual Novels, which are basically novels on computer with imagery, music and sound to help depict the scenes along with the text. Don't think that's anything special? The text in these novels is massive (Tsukihime, Fate Stay/Night). Aside from this there is even gaming online where you can compete with people from your region and some cases people from all over the world. It just depends on perspective though. Some think its a waste of time, that's fine; just take in mind everyone has hobbies, pursuits and relaxation and what you may think is alright for a hobby might be a waste of time, expensive or otherwise unsuitable for someone else. Everyone's got a distraction, or two or three, or dozens. Games are just another avenue of getting there.

• Philippines
11 Apr 08
im enjoying playing games since i was young boy. my current console is gameboy the old gameboy series. but now i got my pc i downloaded the gameboy advance emmulator to my pc to play gameboy game to my pc as of now i got lots of game lists to my pc but sad part is i like to have new console right now.

• United States
16 Jun 07
I think there is something diabolical about them, I mean - I can not recall knowing anyone to be addicted to a board game. But, with video games people can have their whole life pass by and they play and play away. It is like they are living through the game. I do not know if it is a hypnotic light flashing, if it is the music or a combination of such things - but something ain't right. whenever my daughters have played video games they have become mean towards each other too - even innocent games. I confess that there is one game that I too was hooked on - and one that I actually thought beneficial to the kids... Brain Age.

• United States
11 Jun 07
I don't know what it is but I've enjoyed games for many years. The most recent systems I have are the Gamecube, PS2 (Slim Version), and X-Box. The last system I bought was a used Dreamcast which didn't have everything I need to see if it works. I did get a game inside the box though with NFL 2K. I'm curious on how well the Dreamcast plays. I might go to the next stage in the gaming consoles but only when the time is right. The PS3 is out of the question for now due to the price but that's another story. I tend to wait a little bit on the next generation systems. It's something I'm used to and plus sometimes I like playing my older systems.