Are you going to settle for a man or relationship that's less than you deserve?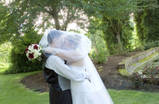 Philippines
May 7, 2007 4:00am CST
I f you're considering marriage, can you tell if its true love or falseheartedness?
1 response

• India
7 May 07
You should be one hundred percent sure that its true love, cos crossing from dating to marriage is full of a lot of sacrifices, compromises and understanding and you have to be sure that this is the person you want to go through it all for! Inspite of divorces being easier to get than before, we should not hurt ourselves by taking a decision to marry someone without being as sure as we possibly can before we make that move!