my c l i x s e n s e offer for you.....!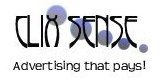 India
May 7, 2007 4:46am CST
If you join clixsense under me you will get paid from Clixsense also and me also! Yes dual ways!!! THE OFFER: 1. You will get 5% of whatever you earn. I will pay you 5% each month of your total earnings that month. On average you earn 15 cents perday from Clixsense. So in one month you will earn 15 x 30= 450 cents= $4.50. And 5% of this is 90 cents (which i will be gifting you). So in total you will earn 450 + 90= 550 (approx) i.e $5.50! 2. If you upgrade then you will get $3 from me. Clixsense pays me $5 if my referrals upgrade. From that i will pay you back $3. So in reality you will be upgrading just for $7. This is very first and only offer present in market. Dont miss it. I may reduce the offer rates if i get enough members. I dont want large number of members as more are difficult to manage. JOIN HERE: http://www.clixsense.com/?2117197 Thanks. Happy Mylotting!!!
4 responses

• India
8 May 07
i am already a member of clixsense .I am not having any referal and i think this is gud way of having referal.I hope u will get many .Best of luck from my side:))

• India
7 May 07
lol.........I have already joined clixsense, so no point of joining it again. Sorry or else i would have taken up your offer. By the way i dont get as many as 15 cents per day, its only like 7 or 8 cents per day. I have already checked all the interests but it doesnt seem to help.


• India
8 May 07
I know about clixsense. Thanks anyways.