"Pirates of the Caribbean: At World's End"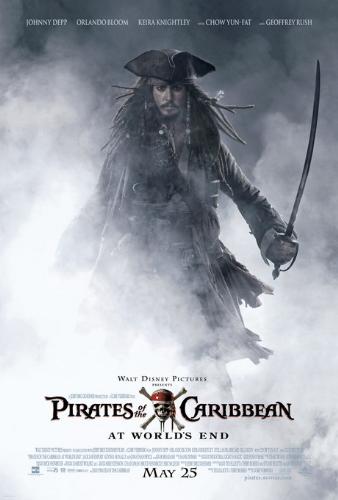 India
May 7, 2007 7:14am CST
"Pirates of the Caribbean: At World's End" picks up where the record-breaking 2006 smash hit left off, with our heroes Will Turner (Orlando Bloom) and Elizabeth Swann (Keira Knightley) allied with Captain Barbossa (Geoffrey Rush) in a desperate quest to free Captain Jack Sparrow (Johnny Depp) from his mind-bending trap in Davy Jones' locker. With the terrifying ghost ship, The Flying Dutchman, and its commander Davy Jones under the control of the East India Trading Company, there is havoc on the Seven Seas. Navigating through treachery, betrayal and wild waters, the heroic trio must forge their way to exotic Singapore and confront the cunning Pirate Sao Feng (Chow Yun-Fat). Now headed beyond the very ends of the earth, each must ultimately choose a side in a final titanic battle - as not only their lives and fortunes, but the entire future of the freedom-loving Pirate way hangs in the balance. Produced by Jerry Bruckheimer and directed by Gore Verbinski from a screenplay written by Ted Elliott & Terry Rossio, our beloved cast sets sail again on a fresh new adventure in May 2007.
3 responses


• India
7 May 07
yes .i am downloading the trailor at this very moment.......

• United States
26 May 07
The movie is fantastic. I went to see it last night and it was great. It leaves things open for another movie and I sure hope they make one. I loved it.

• United States
19 May 07
I can't wait until this new movie comes out! The last movie left me with more questions then answears! Like, why is Barbosa back? Didn't he die? Why is the monkey still "undead" (which was later answeared by referring to the end of the second movie when the money swims back and takes a coin, something I missed the first time) Did Jack Really die? ahhhh! so confusing!