Toothaches

Philippines
May 7, 2007 11:32am CST
Having toothaches is an experience that many, if not all of us would experience. I myself when I was a kid would always complain of toothaches that would never put me to sleep. I would never want to go back to those days ever again. Your turn.. Can you share any toothache experience with me?? Please tell me a bit about it..
11 responses

• Philippines
7 May 07
I experienced toothache when i was a kid. Aside from i can't sleep, i also got headache due to my tooth. I almost want to take-off all of my teeth and cry out of pain. The pain reliever help for few hours but afterwards it still remain. It just stop when i finally had gone to the dentist for removing the affected one and take some medication afterwards.

• India
7 May 07
I have had some of my teeths filled up during my school time. Its long but i still rememeber that it was a very painful experience. Recently one of the fillings came off and i needed to visit the doctor to get it refilled. I was very scared and was not willing to go the doctor but my husband insisted that i should get a check up before things get complicated. He took me to the dentist and all the time i was asking the doctor whether it would pain. He told me that technology has changed a lot and i wont be experincing any pain. I was still very scared and was holding my husbands hand while the doctor did his work. He filled up the tooth and has asked for a visit after 15 days. I hope all will go well.

• United States
7 May 07
As a child I never had a problem with my teeth until I started to get my wisdom teeth in. I couldn't believe how painful that was. There wasn't enough room in my mouth for the teeth to come in. When I went to the dentist he decided that he would need to pull one out. He numbed me to pull the tooth out but didn't give me any medicine for when I went home. I complained all night about how bad it hurt. The next morning my sister who is a nurse looked at it and said it was infected and why didn't the give me an antibotic. She called the dentist office to cuss them out over it. Not only did I get the antibotic but I also got pain killers. Ever since I haven't went back to the dentist. I just deal with the minor pain.

• India
7 May 07
I also had a toothache once. I broke my tooth when it tried to eat a hard pancake. My tooth got stuck in it and then i pulled my mouth away and then i got that ache. Blood flowed very much. But after taking medications for some time i recovered.

• India
7 May 07
as a child i dont remember of having any teeth related problem and touch wood for that.. even my wisdom tooth did not hurt much.... but recently some grooves have started appearing in my teeth and i am afraid that soon i'll also be visiting dentist.. :(



• China
8 May 07
I also had toothaches experience ten years ago,but now i havn't. I can't sleep and made me eat nothing when had toothaches.

• Australia
8 May 07
tell me about it! i just had a very bad toothaches about half a year ago on both sides of my teeth and i can't eat and sleep well at all... the aches become worst and they start to swell and causing ulcers to my mouth... so i give up... i can't stand it anymore and i have to go to the dentist to fix them... 1 root canal + 3 holes and about $2500 and it takes me almost 2 months to fix them... never ever want to experience this again... i regret i didn't take care of my teeth properly since i am a child...

• Philippines
8 May 07
I am very happy to say that I could never remember ever having a toothache and don't actually know how a toothache actually feels like. Even now, I don't have any tooth decay because I grew up with my parents emphasizing that we should always take care of our teeth. I make sure that I don't have anything that is black on my teeth which is a sign of decay.

• Philippines
8 May 07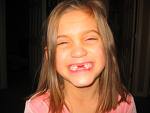 yes. When I was a kid, I used to love candies for it really tastes good and I think almost all kids do so. When I go to my dentist, I have this like black hole on my teeth ha ha and my teeth are starting to get dull and achy. I have some tooth missing on the front yard and so I got some bullying effects form my classmates at school. Now, I took really great care of my teeth. It is better to prevent than not right? I don't wanna have that same old feeling now that I am a grown up he he!