Too many doves around, but where is my white one?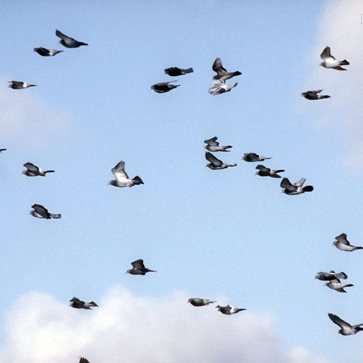 India
May 8, 2007 2:32am CST
Too many doves comes to my terrace everyday. I used to watch them and feed them. One among them is my special bird, she is all white in herself, cute, and no hurry in anything way. She comes close to me take her feed from my hands, walk around me making cooing sounds. But now my white dove is not among others? She hasn't come. Where is my white dove? Her feed is still with me....
2 responses

• United States
8 May 07
Cute, fearless and friendly! Seems she has many qualities that I would aspire for ...... maybe she is busy hatching her younglings. We used to have pigeon's nest by our window and come spring-summer they are busy giving birth and feeding their young ones. The mother keeps her little ones safe by scaring the cats off her nest ( she would dive straight to the cat's eye ) boy those pigeons were one brave family and they amazed me all the time as to how even the smallest of animals/birds could be so brave to take on a large Tomcat (I hope I have that kind of guts when the time comes). Thanks for the post and goodluck on the quick return of the cute dove!

• India
8 May 07

White Doves are gracious! Even the holy spirit decended on christ, in the form of white dove. It is their breeding time, hence your white dove would have gone with her Boy friend to make its own family. LOL.

• India
8 May 07
If your white dove was a male, he would have come back to you with her girl. Girls never comes back to you untill and unless they are divorced. LOL.