Are you romantic? how?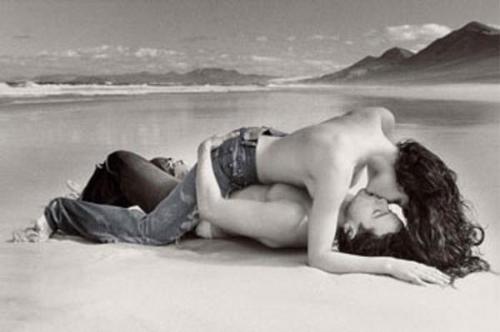 Philippines
May 8, 2007 7:30pm CST
are you a romantic type of person? how do you show that your romantic? in what way can you show that your romantic?:) me, ill show it by cooking breakfast or dinner for my husband, kissing him sometimes infront of his friends or officemates when we hang out together or sometimes we went to the secluded beach alone and have some fun ther LOL...
2 responses

• Sao Paulo, Brazil
9 May 07
I write letters and poetry to the girl I love (although she doesn't love me, I showed her two of them). I try to be a gentleman, it's a way of being romantic. Imagine a guy offering himself to carry your bag. That's romantic (not very much, but it is). The words. Oh, the words. "I love you" is only the beggining phrase for whoever wants to be romantic. Anyway, girls doesn't seem to like romantic guys. I love this girl, and she doesn't love me. I think I'm not her type. I'll not give up, though.

• Philippines
9 May 07
you go boy :) im glad their are still some romantic guys out there :) dont worry as long as you wont give up later on that girl might recognize your effort and love as long as you're sincere and be honest to her then im sure she will like you then.. but incase, she wont recognize what you've done to her all your efforts, then maybe she's not the right girl for you.. there are a lot of girls out there dont lose hope and im sure you will be truly of happy of the girl your gonna be with :) wish you luck and happy life :) continue your being romantic :) thanks! happy mylotting :)

• Sao Paulo, Brazil
29 May 07
I will never give up, but I don't know how much time do I have. If she moves away, then everything is lost. I think SHE is the right one. Of course, someday I might love someone else. I'm sure I will do, if she doesn't stay with me. But I don't want to. Enough of losing.

• China
9 May 07

I think I am not a romantic one now,though I like romantic things like flowers. but my boy friend is not a romantic one, and he never show his romantic to me . he only give me his care and some real applied things . I think when love coming to marriage, romantic might change its type and it might turn to the real applied things for life. maybe this is life.

• Philippines
9 May 07
well, life is sometimes like that :) romantic doesnt really mean by giving flowers, chocolates and other things (for me) but as long as you love your partner and show them that you care and love them then it is romantic for me :) as long as sometimes our partners will surprise us with just little things that would make us happy though LOL :) happy mylotting :)