The Pleasures and the Hardships of being a mother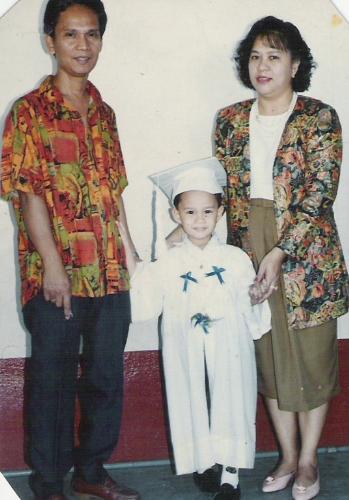 Philippines
May 8, 2007 7:50pm CST
I would say that my only son is a "miracle baby." He came into my life 8 years after I got married, but before he was born, I had to get through a lot of hardships -- going back and forth to my OB-GYN to check on my fertility, having a near-miscarriage when he was 3 mos in the womb, having a CS done in his 5th month due to myoma (surgeon opened like a zipper and closed it, not giving medication coz the baby is left inside), and finally, in his 8th month, he was born. Then the PLEASURES started - awakening in the middle of the night just to see him smiling in his sleep, teaching him how to read and write, the pleasure of him being the valedictorian in nursery, etc. etc. The HARDSHIPS? - growing up pains from childhood to puberty and then to adolescence and to manhood. It pained me when he no longer wants me to choose his clothes or to accompany him to malls. But a mother has to let go, and can only pray that the Lord guide my son in whatever he will do.
3 responses

•
9 May 07
All children go through a similar process of growing up and becoming independent. You can't avoid that, it's life. I can understand why you were so overjoyed that he survived until birth after going through all the problems you did, but in the end, he may have been a miracle baby, but now he's growing up alongside all the rest and building his own personality, his likes and dislikes, and gradually becoming a man. Just thank God that he came this far, and let him grow up at the normal rate. I'm sure he knows how much you love him and how attached you are to him. You'll see, he will be fine. He's strong and he wanted to be born. Brightest Blessings, my friend... you're right in saying that a mother has to let go and he will be guided in whatever he will do, because he was guided this far, through trials and tribulations. Have faith, my friend. He will be a fine man and will also come back often to see his Mum.


• Philippines
14 Oct 10
In a few weeks time I will be a mother, too. Right now my only wish is for her to come out healthy. I'm sure it'll be hard someday to let go of the things that we used to do while she is still young, but that's how life is. She will soon have her own family. I think the only thing that will make me proud someday is if she carries over the lessons I will be teaching her. May she become a good person.

• Philippines
23 May 07
the title caught me to your discussion. hi i can totally understand what you are going through because i am a mother myslef and im proud to be a mother of two little kids namely Gigi and Matt..they are my treasures, they are still very small so they cling to me with their dear life.LOL! But i know that when they grow up and starting to have a life of their own it iwll pain me that is why i treasure every moment i am with them, i hardly get mad at them or spoil their fun, not that im spoiling them but just be a mother to them.