King Crab season ends, your thoughts?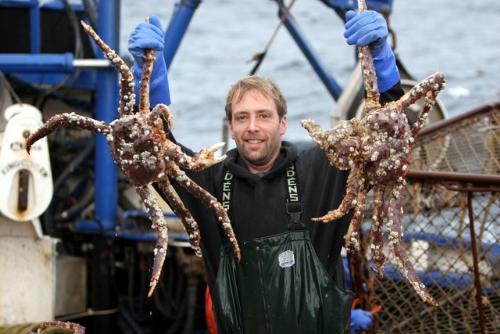 United States
May 9, 2007 12:11am CST
Pretty cool episode! Geez the numbers that Jonathan and the time bandit were pulling up were crazy!! Goes to show what goes around comes around huh? Some of those boats made some mad money, $1m plus in some cases! I have to admit I did have a little chuckle when old Blakey came into processing 3,800lbs light, and then he tried to pass it off as the crews fault lol. Oh well, I guess being a new captain isnt as easy as he may (or may not) have thought. My favorite was at the end when Jonathan and the Wizard skipper both got their checkbooks out. Its nice to see them being "real".
2 responses

• United States
9 May 07
Yep, I was so happy to see that deckhand get back in time for his court date, and was amused by Blakey's miscalculation. If he were a better Captain, I think he would have taken on the responsibility himself. After all, he was there the whole time. He should have been checking and double-checking his crew's work. This was, after all, a first time for many of his friends. Blakey should be working the opilio crab season! I wonder why he opted out? Is he getting soft? I'm very happy for The Time Bandit's crew as well as for Sig's Northwestern crew - they did well! I wonder how long $37,000 will last them up there? Is it equivalent to $50,000 in a big city? How long can you live on that up there? Ah, and yes, it was a lovely sight to see the two Captains giving some of their hard-earned cash to a worthy cause.

• United States
9 May 07
I was happy to see "tigger" get back for his court date too! I agree about Blakey, as far as I know only one of his crew returned from the previous seasons, so the rest were all green with a green captain. Im not sure what the cost of living is in Alaska, but I have a feeling that a lot of them go up there to work and then go back to their respective families, I know that the majority of the Northwestern are from Seattle.

• United States
15 Dec 07
Thats was great that Captain John and the Time Bandit won the contest. They were doing so badly before they saved the man overboard and then turned it around. Great Season.