Cast your votes.... list your 12 chosen senatoriables..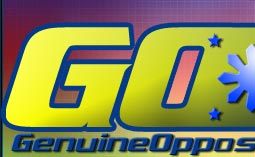 Philippines
May 9, 2007 2:11am CST
from here,shall we start the votes? hahahah!! commo'n guys! everyone is welcome to participate. Let us see who will stand as number 1. Lets put this as our reference so that on May 14, we are pretty sure in our votes. Senators 1. Chiz Escudero - Genuine Opposition 2. Pampilo Lacson - Genuine opposition 3. Kiko Pangilinan - independent 4. Tito Sotto - Team Unity 5. Allan Cayetano - Genuine Opposition 6. Ed Angara - Team Unity 7. Noynoy Aquino - Genuine Opposition 8. Tessie Aquino Oreta - Team Unity 9. Manny Villar - Genuine Opposition 10. Roco- Genuine Opposition 11. Migz Zubiri - team Unity 12. Joker Arroyo - Team Unity Mayor: Benhur Abalos - Lakas-NUCD Congressman: Neptali Boyet Gonzales - Lakas-NUCD
6 responses

• Philippines
10 May 07
1.recto 2.pangilinan 3.defensor 4.zuburi 5.arroyo 6.singson 7.pichay 8.magsaysay 9.villar

• Philippines
10 May 07
thanks for posting your responce and hoping your senatoriables could make it in this coming election

• Philippines
10 May 07
mine will be...... legarda joker arroyo pangilinan escudero cayetano roco zubiri angara villar defensor aquino recto they are my magic twelve...hope they all make it coz i feel mostly that they deserved it. hope they make changes to the betterment of the filipinos.

• Philippines
10 May 07
You have a nice list, except for defensor. I don't like him coz he's number vacuum of GMA but I appreciate your responce to my topic. Thank you andak2007.

• Philippines
9 May 07
Is this a mock election? Oh well I love it, coz I wanna cast my vote but I am devastated that i couldnt coz Im not a registered voter here but way back in bacolod but Ill go for Straight GO they are better and help us against corruption from the present administration.

• Philippines
10 May 07
Here are my bets..,hope they stood and their will as they won on the election... 1.Loren Legarda 2.Noynoy Aquino 3.Ping Lacson 4.Kiko Pangilinan 5.Allan Cayetano 6.Manny Villar 7.Chiz Escudero 8.Coco Pimentel 9.Richard Gomez 10.Ralph Recto 11.- 12.- I still thinking whom senatoriable candidates deserving of my vote?

• Philippines
10 May 07
Here's my list 1-3. Kapatiran Candidates Bautista, Paredes, Sison. They would initiate a new perspective in Philippine politics, one that would be centered on faith and morals. You guys should read more on them. if these 3 guys win or either of the 3, pork barrel will be scrapped! it's the number one source of corruption in our country. 4. Pimintel - a bar topnotcher... Senate needs these kind of people 5. Lacson - openly opposed pork barrel and refuses to avail of it to prove his sincerity. 6. Escudero 7. Pangilinan 8. Cayetano 9. Aquino 10. Trillanes - 11. Joker Arroyo 12. Villar

•
10 May 07
Here are my senatoriables and their website to help you learn about their advocacies and platform. 1. Manny Villar - http://www.mannyvillar.com.ph/ - maganda ang record as house speaker and senate president 2. Zosimo Paredes http://www.angkapatiran.org/ may paninindigan at hindi trapo tulad ng dalwang kasama sa kapatiran 3. Adrian Sison http://www.angkapatiran.org/ 4. Martin Bautista http://www.angkapatiran.org/ 5. Cesar Montano http://cesarmontano.wordpress.com/ - tunay na nagmamahal sa bayan, ang tanging senador na magsusulong sa sariling atin 6. Kiko Pangilinan http://www.kiko.ph/ - may paninindigan 7. Migz Zubiri http://migzzubiri.org/ - masipag, mas maraming batas ang naipasa. 8. Joker Arroyo http://en.wikipedia.org/wiki/Joker_Arroyo - matapang at maganda ang record 9. Noynoy Aquino http://www.noynoy.ph/ - may dugong bayani at nagmamahal sa bayan 10. Ralph Recto http://ralphrecto.com/ - may magandang naidulot ang EVAT 11. Ping Lacson www.pinglacson.com.ph/ - matapang at may paninindigan, hindi tumatanggap ng pork barrel, pero puede naman syang tumanggap di ba, ika nga ni Cesar Montano, nasa kamay ng taong hahawak yan. 12. Sonia Rocco , cant find her website, but i'd like to consider her bilang isang guro at maipapagpatuloy nya ang adhikain ni dating Sen Rocco.

•
10 May 07
Tinanggal ko pala si Chiz, pinalit ko si Migz. Mas maraming naipasa na batas si Migz, si Chiz wala pa. Magaling lang pagpuna at pagpuna. Complaining and whining. Tsk.