What's your favorite style of Pasta?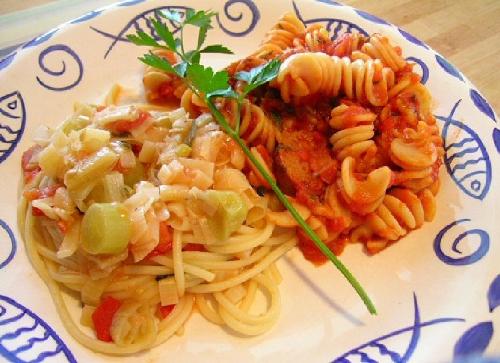 Philippines
May 9, 2007 11:06pm CST
My favorite Pasta style was made by a small eatery in my neighborhood. I named it Pasta Ala Zeny, named after the original cook Zeniada Santos. She would first cook the sauce tomato sauce with ground beef garlic and onions and her special reddening ingredient that I deciphered was atsuete (its a kind of seed from a tree that will make your dishes blush orangy red, tasteless but the color becomes more apetising.) When the sauce is ready she cooks the best noodles from Selerina pasta..."Hala ginawang italian si aling zeny hahah" she makes sure they are carefully separated by adding oil in the boiling water. Just before the noodles gets cooked she then removes them from the sauce pan. Then she drains it and puts in the sauce, she mixes the hot sauce and the hot half cooked noodles and closes the lid to further cook. When the noodles absorbs the flavors of the sauce she then stir fries it a little adding small amounts of black pepper. Then she gets a plate full of her creation and puts papa ketsup on the noodles and two pieces of sliced boiled egg. Take note the ketsup now becomes the sauce but the flavors are really in the noodles to begin with. This recipe was handed down to me by Aling Zeniada before she died last year. This recipe fed a lot of kids and adults alike in my neighborhood along with her other cuisine that unfortunately wasnt handed down to her children who seemed to have never had the interest to learn it. Now its my job to make sure her delicious style will never be an extinct recipe!
1 response