Guy caught misusing his classmate`s ORKUT account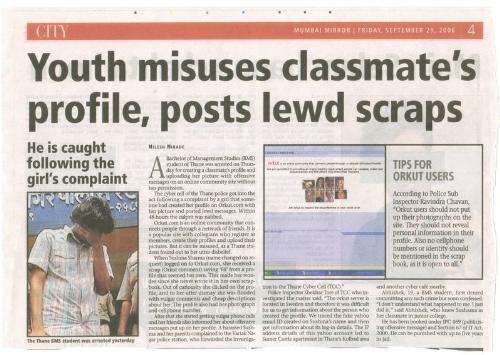 India
May 10, 2007 5:56am CST
My opinion is no one should give their photographs,Ph.no,Home Address. Orkut is just for fun guys.........What do you say???????
4 responses

• Pakistan
12 May 07
Very Interesting and worth a million question. I am of a strong opinion that one should not give his real photographs and numbers on their profiles. People can exploit the information you provide there and it happened there, through orkut people are able to trace you and do harm to you. You should only provide fake information in your profile. Addresses, phone numbers, pictures should not be real in particular. Doing so may get you in trouble. so decision is yours dude. Some people disagree, but you never know, when you information is traced and used for negative purposes.

• India
11 May 07
yes u are totally right i hav also heard about some persons who misuse this site .

• India
11 May 07
Hi guyz, I think that's a right thing not just about orkut but about the whole network it is not the sites that have to be blamed for but the people who misuses them. I think there should not be much impotence about things like this in our beautifull life. Your's, Abindas .

• India
10 May 07
yes naveen wat u told is exactly correct so placing photographs and mobile number and address is not safe to all so please donot keep ur personal information in orkut and try to provide a little bit and dont give any info abut u!