Pre-Hospital Care Philippines setting.

Qatar
May 10, 2007 5:34pm CST
To my fellow Filipinos, do you have an idea what to do in case you witness an emergency like Cardiac Arrest(heart attack), Difficulty of Breathing, Seizure attack, Road Traffic Accidents, Stab wounds or gun shot wounds, and other life threatening emergencies. Share your ideas and story if you encountered a life threatening emergency before. Do you have an emergency services in your area and do you know how to contact them? Are they efficient in giving their services? Is it provided by the government or by the private sector like volunteers, or run by a private hospital?
3 responses

• Philippines
11 May 07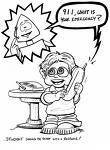 here in our locality, the city government is providing us with the services of 911 similar that of the America's 911. We can call the landline or mobile phone in case of emergency situations. One instance was when my neighbor had difficulty of walking (probably because of arthritis) we had to call the 911 right away. They immediately responded and quickly brought my neighbor to the nearest hospital. One time too when my one of my neighbors complained of someone throwing stones to their house. They called 911 and it came on time and caught the drunken man who was responsible for disturbing my neighbor. We rely too much on the services of 911 here in our locale. They are efficient and fast.

• Qatar
12 May 07
Thanks for your response. Your from Davao right, your very lucky coz I heard that they are one of the best emergency response team in in the Philippines.And I hope the other locality in the Philippines will also put up an emergency response team like in your locality for the benefit of the Filipino citizens...

• Philippines
16 May 07
credit is due to our city mayor who is efficient and concerned of the welfare of the city residents. FYI: Central 911 adapted the concept of 911 that originated in the United States of America. They did not only adapt the concept but the call numbers 911 as well. It is the brainchild of the City Mayor Honorable Rodrigo R. Duterte as part of his peace and order program. Launched in partnership with the Davao Light and Power Company, whose software – the Electronic Computer Aided Dispatch system or ECAD enables a functional system of saving lives. Link : http://www.davaocity911.org/

• Philippines
11 May 07
I have not been in that situation before and pray that i will never be because i don't really have an idea what will be my reaction i probably will just stand there and be shocked. Care to share your knowledge here in your topic since you have opened this discussion already..we all appreciate your help...so that i will have an idea what i will do.

• Qatar
11 May 07
No problem next time i will post the Do's and Don'ts in case of emergency in my next discussion.

•
10 May 07
I'm not a nurse nor a doctor but I have taken first aid on night classes. I'm also a first aider at work and certified to operate a heart stop machine. Thank goodness I haven't been in a life threatening situation yet. My first reaction would probably be panic but I'm sure the yearly update and training will kick in after a second of panic. :o) I'm living in England but if I encounter this in the Philippines then I would not really know any emergency number to contact or where to find them.

• Qatar
10 May 07
Thanks for your response, but an advice DO NOT EVER PANIC in an emergency situation. Because if you panic you will forgot what you have learn. Always stay calm but be quick in your action.