answerig the phone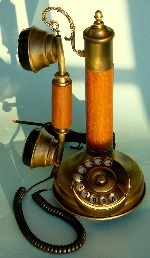 France
May 11, 2007 6:15am CST
You know we should stop everything we are doing to answer a phone call! That's kind of amaze me, not when I am in the office but it might be a important business call oh yeah. But what about home, you play with your kids and the phone rings ... You are having fun with your wife and ... You may turn off your phone but you can't leave it unasnwered.
2 responses

• India
11 May 07
Its diffiuclt ot just let the phone ring. Its incessant ringing will anyways irritate you and you will pick it up. besides it could be something important which you cant ignore.

• Sao Paulo, Brazil
11 May 07
I answer the phone all the times. But if I don't want to, I don't mind letting the phone ring and ring and ring. Although it irritates me, I know how to control myself. The problem is that we never know when is something important. Usually, I pick it up.