The new name of Bruce Bowen, is Bruce Lee Bowen?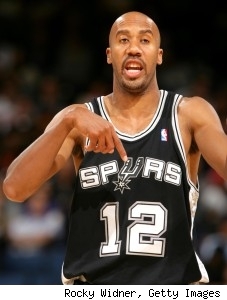 Philippines
May 12, 2007 12:31am CST
Well, its really interesting now, that Bruce Bowen of the San Antonio Spurs, was named in the All-NBA Defensive Team for the past seasons, but is he really a defesive player, to the extent that he player dirty tactics? See the following youtube videos about Bruce Bowen for your evaluation: www.youtube.com/watch?v=UI5pE2-bXkE www.youtube.com/watch?v=drPQkEsM8uM www.youtube.com/watch?v=MLgHeeOZJFI www.youtube.com/watch?v=yGQMubkHKPE What do you think, is he a dirty player? Or the defensive player as he is known?
2 responses

• Philippines
14 May 07
It's hard to tell whether he's a dirty player or just simply a great defensive player.even in replays, it's hard to doubt his expressions of innocence. all i can say is he's a great defensive player and maybe that's just part of his style in guarding,and that he genuinely never realize that his style has the potential to hurt anyone. I also don't think that the spurs organizaion would stick with bowen knowing that he's a dirty player. remember how they ousted rodman from their organization a few years back? i don't know, correct me if im wrong...

• Philippines
12 May 07
he is both a defensive specialist and a dirty player, he doesn't steal the ball or block your shots but he has the ability to pest you and take your game out of your concentration being a dirty player is a part of his strategies and he's very good at doing those dirty tricks without being notice by the referees. sometimes even a replay can't tell if bowen is guilty or not. all i can say is goodluck to all players being guard by bruce bowen ^_^