Do u really believe on Vampires??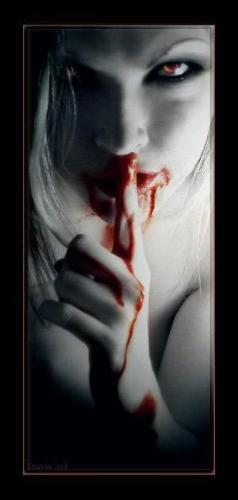 United States
May 12, 2007 8:44pm CST
So many movies has been made on vampires.They shows us it so real as they do really exist.How many of you have this sense that they do really exist?Have you met any type of this person who looks like a vampire to you.I mean are they naturally exist or it is some kind of mental person who turns in to vampire and start drinking other peoples blood?Is there any religion which completly agree and proof the existence of these creatures in the world?I have even heard of this thing that if you are biten by a vampire you soon become a vanpire too?How much this is real?what you think? I do not believe in existense of vampires.I think there is some kind of mental illness who makes some peoples so ill that they looses control and start drinking blood of other peoples.
5 responses

• United States
22 May 07
my mom always says if you believe in something it might exist

• Pakistan
20 May 07
Well if talking about the myth creature well i dont but if you are talking about blood sucking creatures than i guess i do as i think all the politicians around us in here and there are some form of vampires as far as there mentality level is also concerned and ofcourse all the big business owners selling on high prices to poor consumers are also vampires sucking blood from the whole humanity.

• Australia
17 May 07
Hello taurean83 I don't really believe in vampires. I do believe in ghost but I don't know anything about vampires. Maybe they were real or maybe they just like ghost. So i don't believe that. God bless you

• Bulgaria
15 May 07
I believe in the energy vampires, they are something absolutely real. May be the films make association between the blood and the life force, the energy. But this is too literally said. The energy vampires act on your mental level. And they do it sometimes unconciously.