does anyone know how to make a fondue?

Philippines
May 13, 2007 11:24pm CST
i want to make a fondue but dont know how. can anyone tell me? either cheese or chocolate fondue. i would really appreciate it.
1 response

• India
14 May 07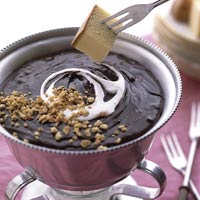 try this chocolate fondue. i love chcolate flavour so i had this recipe with me. i hope you will like it and love to give it a try too. it is very easy to make. 2 cups semi sweet chocolate chips 1/4 cup milk 1 14oz can of sweetened condensed milk 1 teaspoon vanilla cake, fruit, cookies, candies for dipping combine milk and chocolate chips in fondue pot. you can use crockpot for this. if it is electric you can set temperature dial to warm . stir until chips are melted. Add sweetened condensed milk and vanilla. stir to combine. serve with angel food, sponge or pound cake, marshmallows, cookies or candies or any fruit you like like fresh ones............. its done.