Missing British Girl Case - Madeleine McCann (age 4)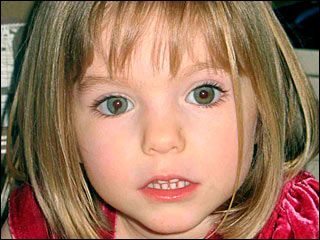 United States
May 14, 2007 4:37pm CST
Have you heard about the little girl Madeleine McCann who vanished on May 2nd, 2007 after her parents left her, and her brother and sister alone while they went to a nearby restaurant within their hotel complex? They were on a vacation. I can't imagine something like this happening to me. I really do feel for the parents. It must be really hard for them right now. It's very sad. Right now I just hope they can get through this horrible thing. I am also praying that this child is found safe and that we can have a happy ending on this case. Let's all hope for the best. If you want to read up more on this case about little Madeleine McCann, you can do so here: http://news.aol.com/topnews/articles/_a/help-pours-in-for-missing-british-girl/20070514110109990001?ncid=NWS00010000000001
2 responses

• United States
20 May 07
As a parent, I don't understand how anyone could leave their children alone at ages 4 and 2. If they really needed to get something to eat, why didn't one of them go out while the other stayed back with the children? To me, this constitutes neglect on the parents part; and while I don't think that they deserved to have this happen to them I don't understand how they could be surprised that it happened at all. I know there's a saying 'Hindsight is 20/20', but in this case it was something that could have been prevented if the parents had been thinking at all. I pray that this little girl is found safe and sound, but I question whether or not she (or her siblings) should be allowed to remain with the parents that left them.

• United States
20 May 07
You are very right. I know that leaving their kids alone, was the biggest mistake they probably ever made and hopfully other people will hear this story and they will realize, you can't just leave your kids alone, even if they are sleeping. Now this little girl is missing, and who knows if she will ever be found. I sure hope she does, I know this has to be hard on the parents. As much as I can't believe they left them babies alone, I wouldn't wish this on anyone. But you did make a very good point.

• United States
22 May 07
Thank you very much for the BR!!

• Sweden
14 May 07
I do feel for the parents and I do wish that they will find her and that she will be safely returned. HOWEVER - I can not understand HOW the parents could leave them alone in a country like portugal, even if they checked on them every now and then. Kidnappings happen alot there and I would never ever have left them alone. I am sure they are thinking the same right now .- but it is a little to late =(

• United States
15 May 07
Yes, it is a little to late. I know as a parent, I wouldn't ever leave my child alone, even if they were sleeping. It's a dangerous world out there, ANYWHERE! I'm sure the parents do feel guilty about it. But parents do make mistakes. As bad as a mistake it was, I hope everything turns out for them.