Favorite Animal!!!


India
May 15, 2007 9:49am CST
Hey a fun question to ask!!! Which animal you like the most ...? Do you have liking to animals? Have you thought of housing a animal? LOL... I like LION because of its fierceness and roar eventhough not as good to hear. I when I was a kid thought of have a giraffe in home because I felt I could reach the tree top with its long neck beacuse I once had to sit on the tree top and sit there.
4 responses

• United States
15 May 07
My favorite animal is the wolf. They are so beautiful. THey are very loyal to their packs. I am so happy that their population is making a comeback.

• India
16 May 07
You have a wierd Liking. it is gr8 that you like a differt animal from the rest of the group. Wolf is said to be a clever one....

• Philippines
16 May 07
yes, wolves are clever. some persons have tried to domesticate their kind with some success. it is true that wolves are loyal and they have been found to be with some winning ways.

• India
16 May 07
Ya wolves work in a unique way. I have know many people in the own distinct way and had success!!!

•
21 May 07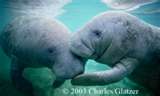 Manatees, also known affectionatley as Sea-cows, are my favourite animals. They graze in families, like a hug, they kiss each other, and think everyone and thing is their friend. Unfortunatley, many die or are injured when saying hello to speed boats, and get cut by the propellors. They are just trying to be friendly.

• India
27 May 07
Good you have introduced a new animal to many people...including me... I have not heard of this animal before. Thanking You.

• China
20 May 07
well,if you mean wild animals,wow,i am afraid that i don't like any of them.coz i think they are terrible,they will eat human beings.i am a little of scared about those animals,like wolf,tiger,lion,i'd better see them on tv,not in real life. but if it is ordinary animals,i like dog,people said dog is an honest friend,and i think so,at least it can guard our house.

• Philippines
16 May 07
i love bears, tigers and snakes. i am really an animal and nature lover. how i wish we can just simply hug them and play with these animals... this is the reason why i can never let go of some teddy bears and other stuffed toys. at least, i can have the fun and joy of hugging and cuddling them as though for real through my imagination.

• India
16 May 07
Great !!! You are still doin what kids do. Bears are really lovable. Even I had a great time in childhood with these stuffed toys but now I now more care for those teddy and they are all back in the showcase. You love snakes very unique..... You are anther person and foe the first time i hearing of a person who loves snakes...