Am I The Only One?!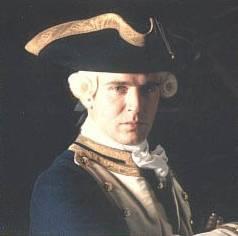 United States
May 16, 2007 9:45pm CST
Am I the only one who thinks Captain Norrington is hot! lol. My sister and my friends all think I am crazy! But I love Norrington! I think he is attractive and a good guy. Look what he does in the first movie to make Elizabeth happy! And he was going to jump into the water after her! He really does love her and he gets his heart broken!*Sigh* What a dream hunk! lol
3 responses

• Portugal
29 May 07
I am biased as I really admire Jack Davenport work and have been a fan of his for a while, so I love his Captain Norrington. i have one complaint though, in Pirates of the Caribean 3 they reduced his character to a whisper. I do agree with you, that he is charming, elegant and tasteful falling in love with Elizabeth yet not being selfish when he sees he has lost (or never had) her heart stepping aside to make her happy, that is truely noble.

• United States
29 May 07
yeah, I wish he would have more to do in Pirates 3...and I am very upset over what happens to him! That shouldnt have happened, it sucked...I hate Wills dad! lol. But I love Norrington! woot =P

•
29 May 07
I'm a fan of Jack Davenport as an actor too, he's very funny and did any of you see him in the tv show coupling? He was very funny in that. I was a bit disappointed how much they reduced his character too! I know the film was long enough as it was, but a little less time in the weirdness of davy jones' locker and a bit more with his character. Shame they reduced it so - he was very funny in the other two. As for being hot though - hmmm, i was too busy looking at orlando bloom to notice!!! ;-)