What Kind of Spender are you?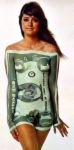 Philippines
May 18, 2007 4:06am CST
Spending money wisely?..... Thats the way we always want to do... but for me the ideal spender saves money off the top, covers his/her basic needs, stay out of dept, gets real pleasure from planned, prudent purchases. .... I have to admit spenders like me can be out of control in countless ways because of our economical situation in our countries. I just fail to pay attention, or sometimes spend in hopes of spending self esteem. How about you guys are you a good spender?
5 responses

• United States
18 May 07
I try to be a wise spender. I too often don't though. I am a compulsive buyer and will most often buy things I really don't need. So, I walk around the store and put things back after I have thought about it. I do feel better when I buy things or go shopping. As sad as that is! I try to be a good spender and buy frugally and not overspend on items that I don't need.

• Philippines
12 Jul 07
Thanks for sharing your really a good spender... Thanks, have a nice day...

• United States
18 May 07
i'm not a big spender, i feel guilty spending money since im not working, when ever i compare the $$$ to peso its a lot of money if you think about it, i'd rather keep the money and send it to my family back there in the philippines.

• Philippines
12 Jul 07
Yeah your right thats why were very proud of being a Filipino were very much cared about or family.. Thanks, have a nice day...

• United States
18 May 07
CASH FOR ME ISN'T A PROBLEM. nOR IS DEBT. i ALWAYS LOOK FOR SALES AND USE CENTS OFF COUPONS WHEN i CAN. i ALSO BUY A LOT OF CLEARANCE ITEMS WHEN POSSIBLE. i SHOP THE dOLLAR sTORES OFTEN ALSO.

• Philippines
18 May 07
It's nice to hear from you coz maybe in your country you have a lot of items that are sale with very good quality here in our place there are some sale too but not that affordable sometimes the quality is not good also. Thanks for sharing.

• India
18 Dec 07
Until I reached 40 I was a spendthirft. I used to spend more than I earn. Later we realised the deficit was quite huge and then we cut the uncessary expenses to bring it to breakeven. Now a small savings started. Being economics students, I was a firm believer in definit financing.

• Philippines
13 Jul 07
I am a very thrifty and a very wise spender. I think about 10 times before finally deciding if the item should be bought or not. I also make sure I live on a budget. Sometimes, I spend on buying things I dont need but those have very minimal amount. Just for enjoyment.