Now here's a good one Coors has come out with a new label for it's bottles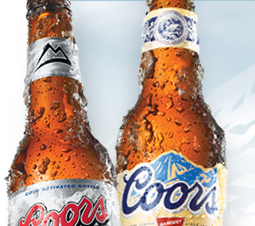 United States
May 18, 2007 12:30pm CST
to let one know when the beer is cold enough to drink. LOL! I think that is ridiculous! I know no one has to tell me when a beer is cold enough to drink. I wonder what are they trying to do here? The label changes color on the rocky mountain icon from silver to blue when the beer is at the correct temperature. Do you think this is just a way for them to get more people to try their product? Would buy their product if it isn't usually your brand? I just had to shake my head when I saw this ad. What do others think of this? If you really wanted a beer would you wait until it's the "proper temperature"? LOL. Some things are just too far fetched for me! http://www.packworld.com/view-23085
6 responses

• Denmark
18 May 07
LOL, when it's cold enough to drink!? When it's been in the fridge for a day or so it's cold enough, I don't need a label to tell me that.


• United States
20 May 07
LOL yes this is to try and get people to buy their product.Most people I know that drink would definitely not wait until the label turns a certain color.What in da world?!

• United States
19 May 07
Actually, that does work. It is just like those diposable thermometers that the nurses use to stick in our tongues at school. It is funny when you think about it.


• United States
18 May 07
It is definetly a marketing ploy. Coors has always been known for its Rocky Mountain cold refreshing taste and so they are building on that imasge to try and win some new customers. I remember when you couldnt even buy Coors up in the Northern States. I'm sure this new lable will appeal to some people even if just for the novelty of it. Cheers!