Fondant Icing Cake, do you know about it?

Malaysia
May 20, 2007 11:42pm CST
My neice birthday will be on this july 2nd. By now I have already searching for the cake decoration on her birthday cake. I am planning to bake her a cake by my own. I decided to make her a chocolate moist steamed cake with fondant icing on it. I have been searching on the internet about this icing and find that it is very interesting. I need to know if anyone there have try the fondant icing and how do you guys think of this icing style? Is it difficult to do or average?
1 response

• India
21 May 07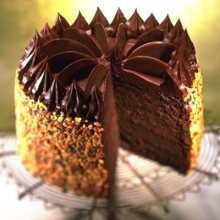 i did it with my 23 cms. round cake. it is not that easy frankly speaking, atleast for me, because i am not at all an expert in all this, so i found it a bit dificult, not very difficult but then too a bit above the normal ones. for this all you need is:- 350gms plain chocolate chopped into small pieces 60ml liquid glucose 2 eggs white 900 gms. icing sugar' place the chocolate and glucose ina heat proof bowl, and melt them stirring gently, keep looking at it.when the mixture is smooth and gently melted alloe it to cool slightly . in a clean grease free bowl, whisk the egg whites with a hand held electric mixer until the soft peaks form then stir into the chocolate mixture with about 45 gram of the icing sugar. continue to beat the icing, gradually adding enough of the remaining icing sugar to make a stiff paste . if not using immediately, wrap the fondant in a clear film.

• Malaysia
21 May 07
I also think it is not that easy as what i saw on the video but I really like them and think that my niece will love it. I have a rolled buttercream fondant recipe which they said taste more better then the usual one - the taste is just like the buttercream frosting. Rolled buttercream fondant INGREDIENTS •1 cup light corn syrup •1 cup shortening •1/2 teaspoon salt •1 teaspoon clear vanilla extract •4 Cup confectioners' sugar DIRECTIONS 1.In a large bowl, stir together the shortening and corn syrup. Mix in the salt and vanilla flavoring, then gradually mix in the confectioners' sugar until it is a stiff dough. If you are using a stand mixer, use the dough hook attachment. Otherwise, knead by hand. If the dough is sticky, knead in more confectioners' sugar until it is smooth. Store in an airtight container at room temperature or in the refrigerator. 2.To use, roll out on a clean surface that has been dusted with confectioners' sugar until it is 1/8 inch thick or thinner if you can. Drape over frosted and chilled cakes and smooth the sides down, or cut into strips to make bows and other decorations.