Flowers in the sun

United States
May 21, 2007 8:50pm CST
I'd like to plant some flowers along my walkway in the front of my house. There is shade in the morning till about 9am, then it is sunny all day. The shade returns around 5pm. So I need something that would be okay with alot of sun. Could you recommend something?
2 responses

• United States
22 May 07
We too have a walkway that is in full sun all day. We have tried many different things and have two favorites. The one grows about 7 inches tall and flowers all summer and very prolifically, it is Gaillardia. (there is a short variety and a taller variety that gets like 12-18 inches high...but we like the short one. The Gaillardia comes in several varieties, but all are of some combination of oranges/yellows/crimsons. It is a perrineal in our climate and comes back year after year. Another that we love, it gets about 6 inches tall is Portulaca. The Portulaca has several different color blooms on each plant!! (pink, yellow, white, red) The Portulaca blooms all summer too. It is an annual in our climate and has to be replaced each year. I have included a link to a picture of each one so that you can see it. They are both wonderful plants in that they take the extreme heat and can take periods of drought with no problem. http://www.floridata.com/ref/P/port_gra.cfm http://www.floridata.com/ref/g/gaillad.cfm

• United States
22 May 07
Thank you so much for including the links. Those are both really beautiful flowers. I love all the pretty colors. It's hard to find flowers that do well in the sun all day. Thanks!

• United States
22 May 07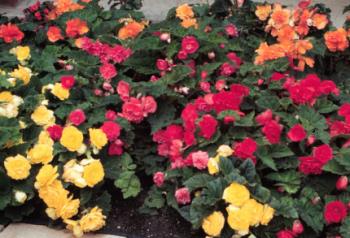 From my experience when I lived in Florida, I had the most luck with marigolds, petunias, pansies, and wax begonias. They can also make a very pretty mix. I had them all together in one "garden bed" Good luck on your plantings!!