Mayonnaise is not for me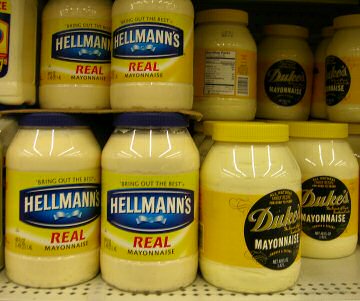 Malaysia
May 22, 2007 12:02am CST
Is it just me or is there anyone else who doesn't like to eat mayonnaise?? I don't like mayo.. I don't know many people who are like me.. Practically everyone I know loves Mayo. I've never liked it since I was a kid.. I have no idea what triggered it.. Everyone in my family eats it, so I guess my Mom must've fed me mayo at one point in my life.. I just never did like it!! Anyone out there who doesn't eat mayo?? I need to know I'm not alone here!;P
5 responses


• Malaysia
23 May 07
you gotta point there!! at least it's not something I have to struggle with when I'm on a diet, like cheese and chocolate! i love cheese and chocolate! thanks for your input~!

• United States
22 May 07
I like mayo. I don't like miracle whip. I'm starting to use the soy stuff but it's hard to get used to. My brother refuses to eat mayo. So does his girlfriend. I had an ex boyfriend who refused to eat it too. My brother's girlfriend can't even stand the thought or the sight of it without getting sick.

• Malaysia
22 May 07
Woww.. that's a whole lotta people not liking mayo!! I wouldn't mind hangin' out with that crowd! hehe.. It will be easier when it comes to ordering food! ;P

• India
22 May 07
HI friend mean_queen, i am also the one like . or you can say that you are like me. i dont like the taste of mayo at all. in fact nobody except my brother likes it, so i dont have a problem that it is served in my house. we dont buy it for our home. so i know it very well that my mom would not have ever fed me.

• Malaysia
22 May 07
hi aweins! good to know there are more people like me!! i'm surprised that your family except your brother doesn't like mayo! My whole family loves mayo except for me!! hehe..


• Malaysia
22 May 07
Yayy.. finally someone who doesn't like mayo! Yeah, I prefer mustard too~! thanks for the responding!

• United States
22 May 07
You know, I think it's hard to not like mayo because it's all fat. And fat tastes soooo good. Although, I'm sure that there are a lot of people who are sensitive to certain textures that don't like it. I mean it's really some goopy gob that's kinda gross if you really look at it. Have you tried Miracle whip? It has a different tasste.

• Malaysia
22 May 07
Yeah.. I've tasted Miracle Whip and I honestly can't taste the difference.. I just can't seem to swallow down mayo and even other salad dressings that have mayo as one of the ingredients.. So I basically always need to order sandwiches without mayo.. My sis says I'm really losing out on something good.. hehe.. Good for mayo fans out there then!!